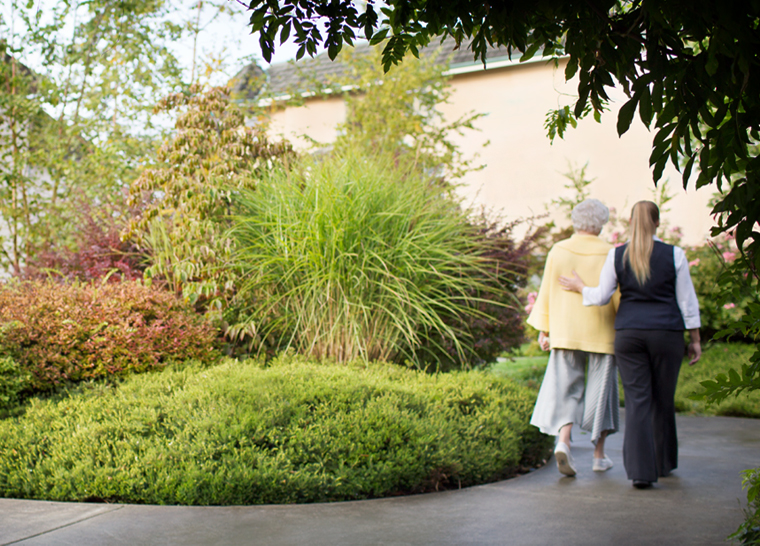 Supportive housing overview for Ontario seniors
Seniors have a wide range of supportive housing options when they need assistance with health care, personal care, homemaking and more. These senior care housing options fall into two categories:
Private pay: This includes retirement homes offering Independent Living, Assisted Living, Memory Care or Respite Care.
Government subsidized: Seniors can get publicly funded care or respite care in long-term care homes or nursing homes, or at home through home care.
Private retirement homes in Ontario
Whether they're called retirement homes or senior living communities, these are residences for seniors who pay to direct their care in a safe, comfortable environment designed to feel like home. They range from basic accommodation to premium residences with hotel-style amenities. Accommodation is typically in private suites in an apartment or condominium or townhome, with shared spaces for socializing. Fees vary depending on the level of luxury, suite size, location, care services required and type of residence. While some retirement homes offer one or two levels of care, many Amica residences provide multiple levels of care under one roof.
Independent Living in Ontario
Independent living is best for seniors who require minimal assistance and wish to delegate cooking, cleaning and maintenance while staying active, engaged and social.
Assisted Living in Ontario
Assisted Living offers all the same perks as Independent Living, but is geared toward seniors who wish to have a vibrant lifestyle while having assistance with activities of daily living such as mobility, grooming, personal hygiene, medication management, etc.
Dementia Care in Ontario
In Memory Care, seniors with a form of dementia such as Alzheimer's have specialized, 24/7 support and programs provided by certified staff in a secure environment.
Respite Care or Short-term stays in Ontario
Seniors choose a supportive respite stay in a retirement residence when they need assistance recovering after illness or surgery or when their caregivers are away. A temporary trial stay helps seniors experience the lifestyle at a retirement community. Both provide complete access to residence amenities, dining and activities with a fully furnished private suite.
End-of-life care in Ontario
Many private retirement homes typically care for their residents until end-of-life.
Private home care in Ontario
Thousands of Ontario seniors use home care so they can continue living at home while receiving assistance with personal care, nursing care, housekeeping and more. A quick online search will turn up dozens of individuals, home care companies, service provider organizations and home care organizations serving seniors in Ontario. If you're considering finding a home care provider to bring into the home, take time to become aware of the risks and responsibilities of employing private home care.
Publicly funded senior care in Ontario
Long-term care homes and nursing homes in Ontario
Subsidized by the provincial government, long-term care facilities or nursing homes are available for seniors who can no longer live alone without moderate daily assistance. With 24-hour nursing care, seniors get support with daily living activities (eating, bathing, mobility, etc.). Residents pay room and board in a long-term care home while the government covers nursing and personal care costs. Seniors in need may be eligible to receive an additional government subsidy for a rate reduction. Here's how to arrange care in an Ontario nursing home. Short stays for respite care are also available in long-term care homes, as well as palliative and end-of-life care.
Public adult day programs in Ontario
Designed to support seniors and offer respite to caregivers, adult day programs provide supervision and activities in a group setting. While a fee is paid for the person attending, these adult day care programs are subsidized by the government for qualifying individuals.
Subsidized home care in Ontario
For those who qualify, the government of Ontario pays for a wide range of services to support seniors who require care. Through Local Health Integration Networks, (LHINs), qualifying seniors who wish to continue living at home can access nursing care, personal care, homemaking (cleaning, laundry, shopping, planning and preparing meals), etc. Here's how to get help for seniors who need support living at home. Subsidized end-of-life care at home is also available to qualifying seniors. Ontario seniors who don't qualify for government funded services can choose private home care.
Find out how residents are enjoying great amenities, activities, flexible dining and personalized service at Amica residences. Schedule a private tour today.