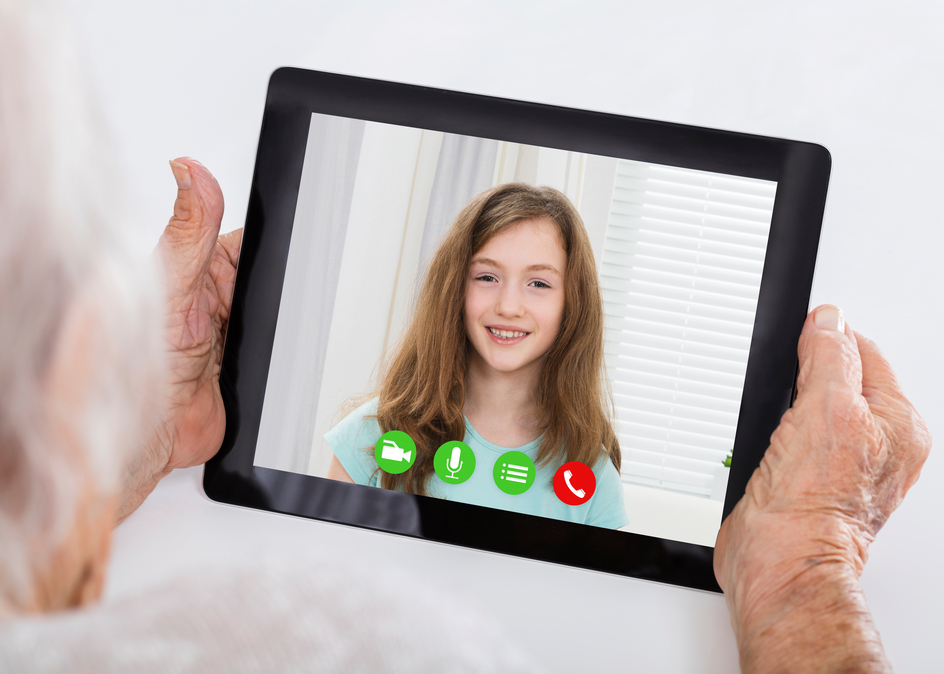 When someone you love is living with Alzheimer's or another a type of dementia, you can see firsthand how social interaction and routines make a real and valuable difference in their quality of life. It's tough on everyone when you're not able to visit in person, due to protective measures to stop the spread of coronavirus. "I know this is a very hard time for families," says Dr. Heather Palmer, National Director of Cognitive Well-Being at Amica. Fortunately, Dr. Palmer has advice for families who are coming to terms with supporting and connecting from afar with seniors living with a form of dementia.
#1 Address the needs of your loved one
What would bring your mom a sense of safety or meaning during this time? How can technology or the staff at their residence help, either with extra visits or connecting them to meaningful experiences, such as online spiritual services? "Arranging for your mom to spend time with a team member might not be the same as spending time with you, but it might be an acceptable temporary solution for her under the circumstances," says Dr. Palmer.
#2 Collaborate closely with the team
To make isolation successful, let your dad's caregivers be your eyes and ears. Contact the team anytime to find out how he's doing, learn about the creative Memory Care programs being offered (from balcony exercise to concerts and other outdoor activities) and encourage him to participate. It will help bring you peace of mind to be reassured that he is safe and well taken care of. Amica's weekly Memory Care newsletter is another good way to stay informed about residence life.
#3 Enhance your parent's suite
Make the environment an oasis containing everything they want and need, especially while common spaces are temporarily closed and group activities are suspended. Would a lamp brighten their space? Would they benefit from a TV or music, if they're spending all day in their suite and can no longer watch TV in the lounge or attend residence music programs?
#4 Try phoning or video-calling — at the right time
At what time of day is your loved one typically at their best and might be most receptive to a call? Remember that everyone living with dementia moves through different stages with their condition, so be prepared to try again another day, or to adjust your expectations to meet your loved one's abilities and needs. Amica teams can also arrange a virtual visit on residence devices using video calling apps such as Skype or FaceTime. One Memory Care resident has been eating lunch while on FaceTime with her daughter, who helps prompt her mother to eat.
#5 Introduce yourself
If calls are not the norm for your loved one with dementia, try helping orient them (for some seniors, the phone may not work at all). "Hi Mom, it's your daughter Sarah. I live around the corner with my two kids, Jacob and Abby, and our dog Archie. I can't come visit you right now but I wanted to see you and say hello." Or tell them where you are, so they can visualize a familiar setting: "I'm sitting at home in the rocking chair from the cottage." If they respond well to a call, you can get creative: play their favourite music, sing a song, watch a funny animal video or sports clips together, read a poem or story, or ask about family memories.
#6 Send a treat
A letter or card, sent through email or post, is another way to share family news, pictures and kids' artwork. If the residence is accepting deliveries, arrange to have a special food item delivered, and then enjoy a meal or snack together over the phone or video.
#7 Get virtual support
Try to keep whatever support mechanisms you had in place for yourself or your loved one before the pandemic. Amica moved family support meetings online to respect physical distancing safety guidelines. Some chapters of the Alzheimer Society are offering webinars, virtual concerts and other learning programs online. If you need a quick mood boost anytime, have a look at the submissions to our Smiles for Seniors campaign to reduce feelings of isolation. In response to weekly social media challenges on Facebook or Instagram, Canadians are share fun and inspiring photos and videos — from pet photos to kids' artwork — that are sure to bring a smile.