"Jane" was in tears. A new resident at Amica Newmarket, the 82-year-old missed her old home, pined for her routine and was feeling lonely. Fortunately, she spoke up about her feelings to Community Relations Assistant Sheena Brodie, who reassured the resident that what she was experiencing was absolutely typical — she simply needed more time to settle in. Brodie also offered to introduce Jane to some ladies who'd value her friendship. Fifteen minutes later, Jane went back to her suite smiling and feeling hopeful.
Siobhan Bell, Director of Wellness at Amica, says nearly every new resident shows signs of homesickness for the first six to eight weeks. "It's perfectly normal—all seniors experience those feelings to varying degrees. We know from research there's a grieving period when we go through major life changes. By four to six months, residents typically feel integrated into the residence."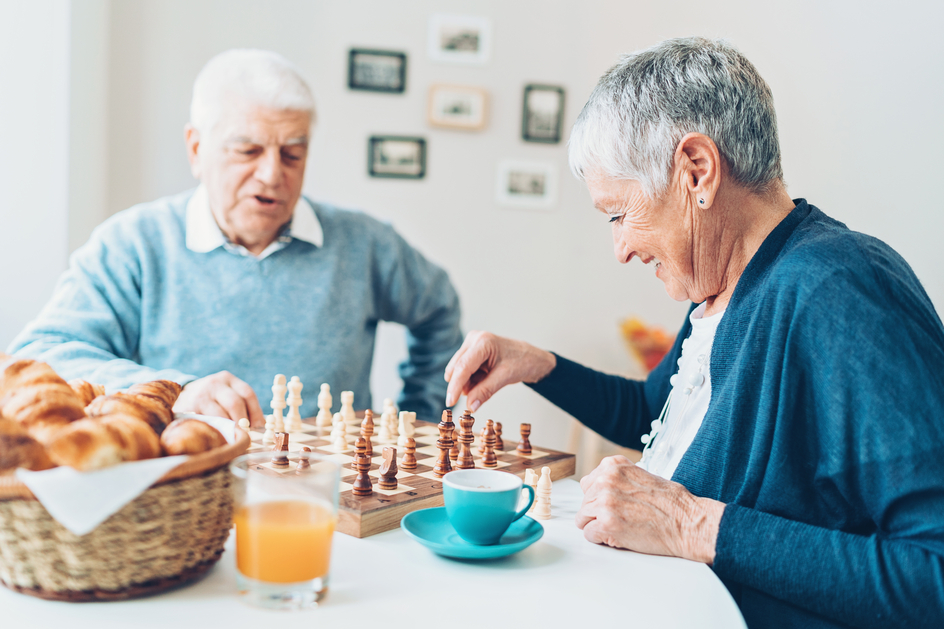 Signs of homesickness in senior living
Shyness or reluctance to participate in social situations
Headaches for people who don't normally experience them
Feeling anxious for those who don't typically experience anxiety
Trouble sleeping or sleeping more than usual
Lack of appetite
"Anxiety is probably the biggest sign," says Bell. "Many seniors in this generation probably don't have much experience with this. It's a big step when they realize this is anxiety and we can manage it."
What causes homesickness in seniors
Bell believes these stressful feelings often spring from a lack of control about their routine, surroundings, etc. They may also experience social anxiety, believing they need to act a certain way to fit in with their neighbours. "For example, some of the ladies enjoy dressing up for dinner," says Bell. "Whereas some of the men associate dinner with taking off their suits after work and changing into something more relaxed." One woman was accustomed to spending all day trying to take care of daily tasks by herself; after she moved and the staff took on cooking and cleaning, she found herself spending her time "dwelling on the things that hurt."
How Amica helps seniors with anxiety and homesickness
Practical support
For 50-plus years, one resident had woken up to her dresser sitting on the right-hand side of the bed but this placement wasn't possible in her new suite. When the staff suggested she place something else to bring her comfort on that side of the bed, she hung a beloved quilt.
Emotional support
"When they're feeling a sense of loss for how things were, we try to encourage new residents to explore their emotions through self-reflection," says Bell. "We try to validate that it's perfectly normal to experience those emotions when you move to a new home. Once they get to that realization that this is anxiety and it's normal, they're interested in taking action and moving forward."
Social support from staff and residents
A detailed discovery process helps Amica staff get to know every resident before and after they move in. Managers personally welcome each resident within 24 hours of their arrival and immediately start to look for connections to other residents to make the senior feel at home. "We try to find people we think they'd gel with and arrange for them to have a meal together," says Bell.
Resident ambassadors on every floor take on the role of welcoming new residents. They introduce themselves, present them to other residents on the floor and invite the new senior to meals in the dining room to get conversations going and explore common ground.
Advice for seniors to reduce homesickness
Be honest with yourself about uncomfortable feelings: Instead of trying to push away those emotions, try to acknowledge and validate them. It's perfectly normal and OK to feel sad or disoriented in a new home. Then focus on ways to integrate what's important from your old life into your new life at Amica.
Be forthcoming with staff about what you need: If you can, it helps to pinpoint what the most important things you need to integrate from your old life into your new life to feel comfortable and safe in your home at Amica. As Bell says, "The transition is so much smoother when we're all working together."
You'll be surrounded by great amenities, flexible dining, activities and personalized support at Amica residences. Book your personal visit today.