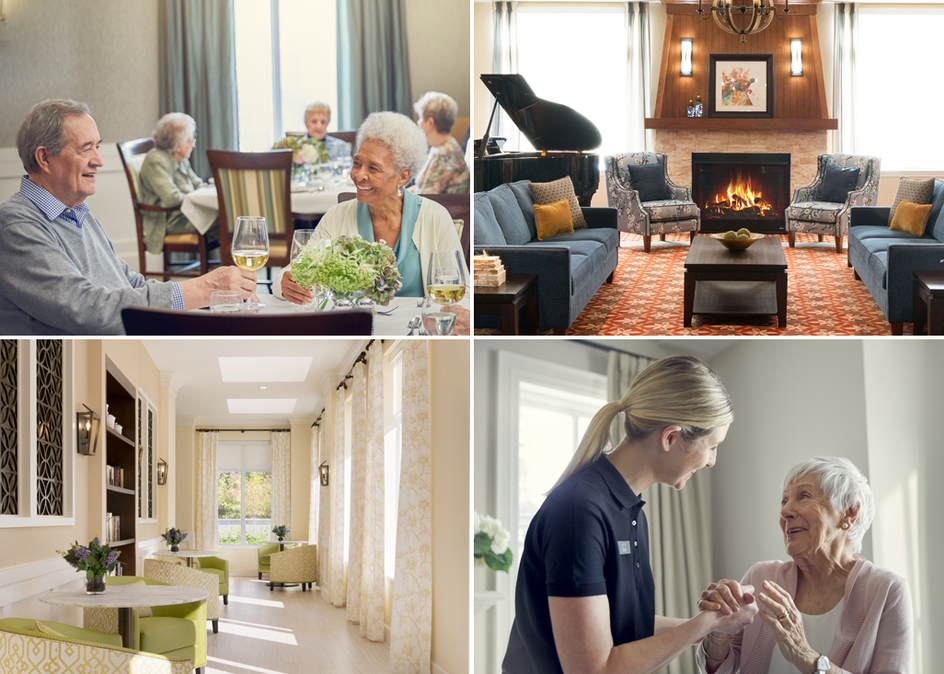 When living arrangements aren't quite working as well as you'd like, it may be time to consider which Ontario senior housing choices offer the most benefits for you or your loved ones. The good news is there's more choice than ever for seniors, from those who wish to stay at home, to seniors too frail to live alone to those who prefer to be empowered with the choices, freedoms and professional care provided at a premium retirement residence such as Amica. Read on to learn more, plus download our guide to Understanding Senior Living Care Options in Ontario (you may also be interested in information about senior care in Alberta and BC).
What is home care?
Some seniors choose to stay in their own house or apartment and access privately-paid or government-funded home care support such as health services, bathing assistance, housekeeping or even end-of-life care. (Find out more about home and community care.) However, accessible services may be limited and seniors can experience isolation. A few hours with a caregiver is not equivalent to the socialization, dining, activities and entertainment opportunities that retirement living provides.
What are long-term care homes?
Also known as nursing homes or old-age homes, long-term care facilities are partially funded by the Ontario government and offer 24-hour nursing and personal care, accommodation and meals for people with complex conditions who are unable to care for themselves. The province covers the costs of medical and support service, while seniors pay room and board – although low-income seniors may qualify for subsidies. (Find out more about long-term care in Ontario.) While long-term care homes sometimes offer a shared TV room or religious services, typically budgets are tight and residents are in poor health with mobility challenges, so activities and amenities are limited. Long-term care homes may be operated by private organizations, provinces or municipalities, or non-profit/charitable organizations.
What is a retirement home or residence?
Many seniors are looking for more than just housing and nursing care — they also want beautiful surroundings and a great lifestyle with like-minded people so they can enjoy a happy retirement. Like long-term care homes, private-pay seniors residences like Amica comply with guidelines from the Ontario Ministry of Health and the Ministry of Long-Term Care. However, they are not funded by the government. Private retirement establishments may be called a retirement home, a retirement community, retirement living, a seniors' residence or a senior living community.
Retirement living care services and costs
Not all private retirement residences are able to provide the high level of clinical care available at Amica, so be sure to check with residences you're considering. At Amica, seniors can access 24-hour nursing and personal care, which residents pay for, if needed, in addition to the cost of amenities, meals, housekeeping, recreational activities and social events. Some retirement homes, such as Amica, also offer specialized dementia care. Download our guide to Understanding Senior Living Care Options in Ontario for even more details about the Amica difference.
Retirement rates can vary widely depending on your care needs, the suite size you'd like and the location you're considering. Learn more about retirement financial planning from a resident who was initially surprised by the monthly fee, a financial expert or try downloading our senior living budgeting tool.
The Amica advantage
A higher level of personalized care for residents in Independent and Assisted Living, comprehensive safety measures, better staffing, meals prepared by Red Seal chefs, social programs, family connections and amazing amenities like pubs or hair salons — these benefits explain why discerning Ontario seniors choose Amica. Unlike other retirement homes, many Amica residences provide a full spectrum of care under one roof, including Memory Care for dementia patients and end-of-life care, so you don't have to move to a long-term care home if your health changes. Amica residents also appreciate their condo-style private suites — available for singles or couples — as well as the concierge, happy hour and enriching excursions.
We can't wait to show you what life is like at Amica. Book a tour of inspiring Amica residences in Toronto, London, Ottawa and other beautiful Ontario communities.