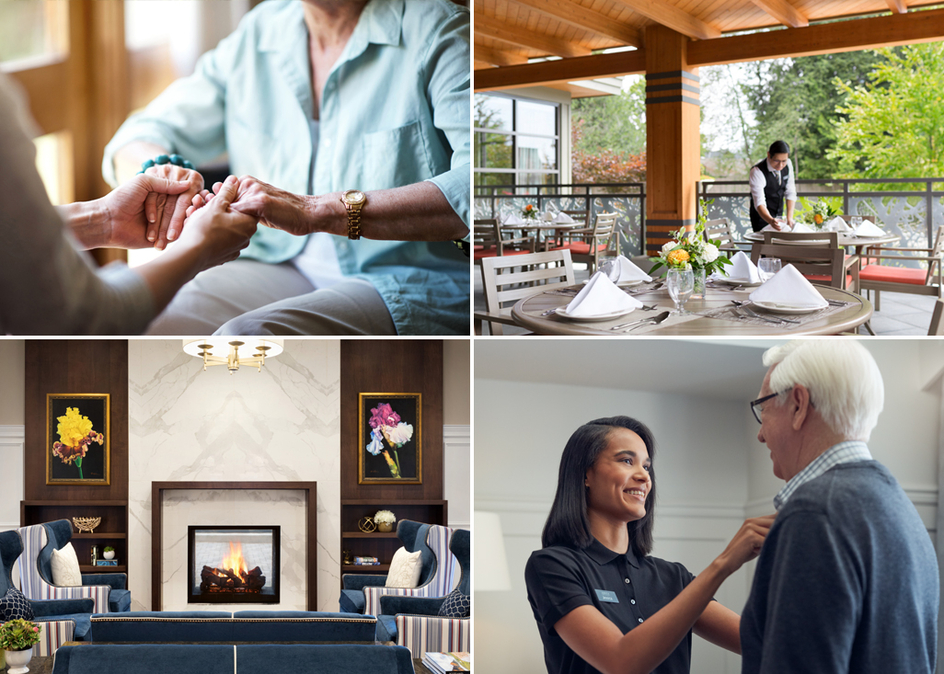 When seniors need a bit more support and care, it's time to weigh the benefits of different housing and living choices for you and your family. Luckily, there are more options than ever for seniors in B.C., from those who don't want to leave their current home, to seniors too frail to live alone, to those who prefer to be empowered with the choices, freedoms and professional care provided at Amica, Canada's leader in premium retirement residences. Read on to learn more, plus get our guide to Understanding Senior Living Care Options in British Columbia, as well as senior care alternatives in Ontario and Alberta.
What is home care?
In BC, eligible seniors can access home support services, which can include assistance with bathing, nutrition or getting around, among other things. Although publicly subsidized, there may be a cost based on income. (Find out more about home care and home support services in B.C.) Private home care for seniors is also available. Just keep in mind that a short visit from a community health worker or caregiver isn't comparable to the full range of social, dining, entertainment and recreation experiences that retirement living provides.
What are nursing homes?
Also known as residential or long-term care homes, publicly funded nursing homes typically offer 24-hour care, respite care and end-of-life care for frail seniors with complex medical conditions. Single, semi-private or ward rooms are hospital-style, and meals and activities are fairly basic. Although subsidized, there are still monthly rates. (Find out more about long-term residential care in B.C.)
What is a private retirement home or residence?
Many seniors want to live life on their own terms, with more than just nursing care and housing. They're looking for personalized support, thoughtfully designed surroundings and uplifting activities and excursions with like-minded people so they can enjoy a happy retirement. Those seniors may prefer private-pay senior living with residential care, which feels more like a home than a hospital. Amica residences are not publicly funded, but they are bound by the same regulations as public facilities. Private retirement establishments in British Columbia may be called retirement living, a retirement community, a retirement home, a senior living community or a seniors' residence.
Retirement living care services and costs
Not all private retirement homes are created equal, so be sure to ask about the clinical care available at the residences you visit. At Amica Senior Lifestyles, located in some of the best retirement places in B.C., personalized care is supervised by a Director of Wellness. Seniors can access 24-hour nursing and personal care, which residents pay for, if needed, in addition to the cost of meals, housekeeping, amenities, recreational activities and social events. Some retirement homes, such as Amica, also offer specialized dementia care. Download our guide to Understanding Senior Living Care Options in B.C. for more details.
Retirement living costs can range widely depending on your care needs, the location you'd like and the suite size that you're considering. Find out more about retirement financial planning from a resident who was initially surprised by the monthly fee and a financial expert, or try filling out our senior living budgeting tool.
The Amica advantage
A higher level of support, better staffing and safety, exceptional cuisine prepared by Red Seal chefs, holistic wellness and recreation programs, social and family connections and great amenities like indoor pools and hair salons — these benefits explain why discerning B.C. seniors choose Amica. Unlike other retirement homes, many Amica residences provide a full spectrum of care under one roof, including Memory Care for dementia and end-of-life care, so you don't have to move to a long-term care home if your health changes. Amica residents also appreciate being able to have pets in their condo-style private suites — available for singles or couples — as well as parties, festivals, and interesting excursions that appeal to seniors.
Ready to find out what life is like at Amica? Book a tour of our inspiring residences in Vancouver, Victoria, Surrey and other B.C. communities, as well as Alberta and Ontario.