How do Amica residents enjoy a variety of menus and dining options at Amica retirement residences? Let us count the ways!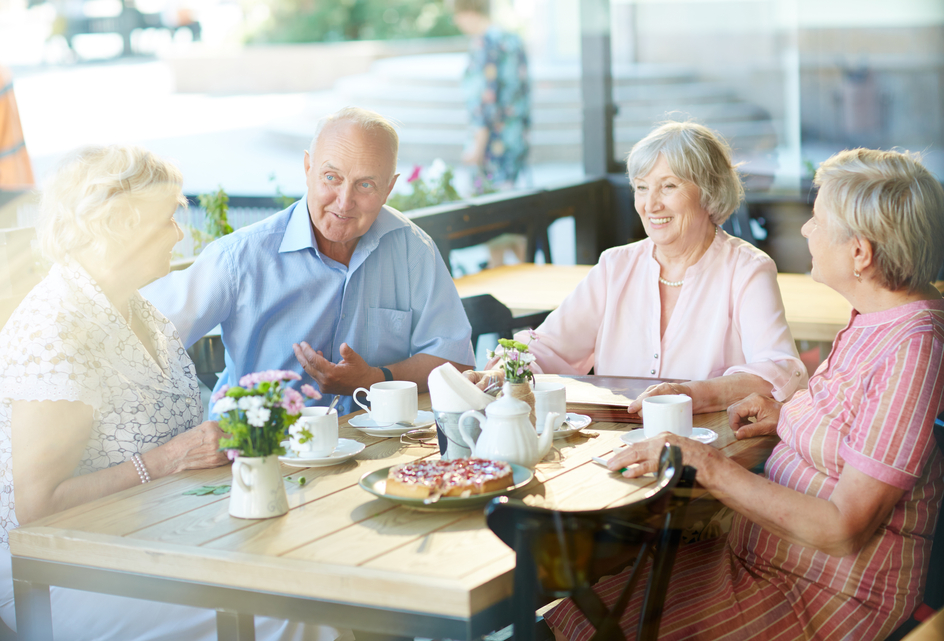 Eat on Your Own Schedule
Some Amica residences offer the flexibility of all-day dining. "From 7 a.m. to 7 p.m., you're able to come to the dining room and get your meal," says Gary McBlain, National Director of Culinary at Amica. Other Amica residences offer up to two mealtime seatings. That means you can eat lunch on your schedule, typically between 11:30 a.m. to 1:30 p.m.

Order From Multiple Menus
In most households, you grew up eating whatever your parent was making and you didn't complain! At Amica, where kitchens are staffed by professional, Red Seal–certified chefs, we offer a lot more choice. In fact, residents have three ways to order during mealtimes:

#1 Daily menu: At lunch and dinner, residents choose from a variety of soups, salads, entrees and desserts. "Most home cooks make the same five or six dishes on a regular basis," says McBlain. "We have a four-week menu that changes four times a year with the seasons. Every three months, our residents are choosing from 112 different entrees!"

#2 A la carte menu: If a resident isn't keen on the daily menu, they can choose from additional dishes on the à-la-carte menu. These include favourites and comfort foods such as eggs, omelets, sandwiches, chicken or steak.

#3 Custom meal: What if you're just craving grilled cheese or French toast for supper? "If we have the supplies available, we'd be happy to make it for you," says McBlain.

Choices
Our wellness and culinary teams work together to accommodate the needs of residents with special diets. And in response to active residents requesting more health-conscious dishes, all lunches and dinners will have a designated "healthy choice" flagged on the menu. These dishes will contain under 400 calories, 500 mg or less of sodium and less than 30 percent fat.

Eat Where You Like
"We offer a lot of flexibility to accommodate residents who want to feel just like they were eating at home," says McBlain. There's no assigned seating in the dining room, so residents can sit wherever they like. If a senior likes to watch TV over lunch, they can get take-out from the dining room. If a resident wants to enjoy a meal outdoors, then depending on the weather and where it's available, residents would be able to eat on the patio. Perhaps you'd prefer a lighter lunch in the bistro or in-suite dining when you're not feeling well? Most residences can accommodate requests to help residents enjoy their meal wherever they like.

Invite Guests for a Meal
If a resident would like to invite a guest or two to the dining room for a meal, the kitchen is happy to accommodate. For three or more guests, residents simply book a reservation so the kitchen knows how many are coming and can prepare accordingly.

Host a Private Gathering
For residents who love to entertain, many Amica residences have a private dining room that can be reserved for hosting special occasions such as birthdays, anniversaries, holidays and dinner parties. Instead of heading to a restaurant, a group of residents at Amica Unionville sometimes arrange a dinner party, working with the chef to customize the menu. Others enjoy booking the private dining room and ordering in different types of cuisine, such as Thai one month or Greek the next.

Special Occasion Menus
On top of the 100+ entrees residents get to choose from each month, they get even more choice when there's a special event to celebrate. Amica residences mark everything from Oktoberfest and Halloween, to traditional holidays like Christmas and Easter, to seasonal occasions like a spring tea or summer barbecue. Many events include entertainment and a special menu to support the theme. "For the chef, it's a chance to be creative and put really fun things on the menu," says McBlain. "Everyone loves a party!"

Gary McBlain is a Red Seal certified chef who has a passion for creating healthy meals using fresh ingredients. After years in the restaurant industry, he transitioned to retirement living. Over the past 15 years, he has worked with more than 150 retirement communities with the simple goal of providing wonderful food and great service.

You'll be surrounded by great amenities, flexible dining, activities and personalized support at Amica residences. Book your personal visit today.