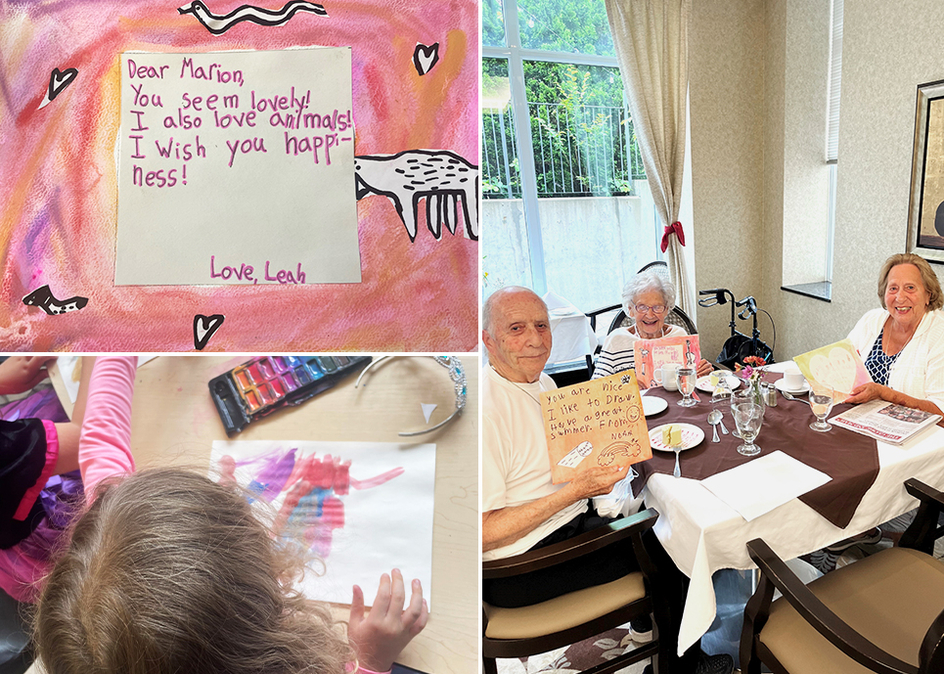 Classes were almost out for summer, but the kindergarten and Grade 1 students at a local public school in Toronto had one final assignment — and a fun one at that!
Amica's support office team arranged an exciting collaboration between Toronto's Amica On The Avenue and three elementary school classes. The students were asked to create personalized greeting cards for each resident.
Before the kids got painting and writing, Kelly Hartman, life enrichment coordinator at Amica On The Avenue, collected a list of the residents' hobbies and interests to send to the school. The teachers then assigned one or two seniors to each student, who interpreted the hobbies in their own way.
How surprise personalized messages from students affected Amica seniors
The result was beautiful, unique artwork wishing the seniors a nice summer, to be delivered as a surprise.
Team members from Amica's support office personally dropped off the cards at the residence. Together with Kelly, they explained the collaboration to the seniors while pointing out the thoughtful personalization.
The messages certainly brought a smile to many faces. "You seem epic! I love that you love mystery books. I hope you have a happy life!!!," read one that was received with appreciation.
The residents were over the moon — a few even cried tears of joy, and others asked if they could give back to the school. "Our residents absolutely loved receiving cards from the kids," confirmed Kelly. "They especially appreciated that the cards were addressed to each of them specifically. They were blown away by the gesture."
Some residents hung their cards on display in their suites, others donated theirs to an 'art gallery' for display in the residence bistro.
The partnership turned out to be a great success (some might say, an A+!). It was a wonderful gift for residents to receive, and it was a special opportunity for the students to express their creativity and learn about the significance of performing acts of kindness.
We look forward to many more collaborations in the future. (Rumour has it the students may be visiting the seniors for Halloween this year!)

Read more about the benefits of connecting children with seniors.