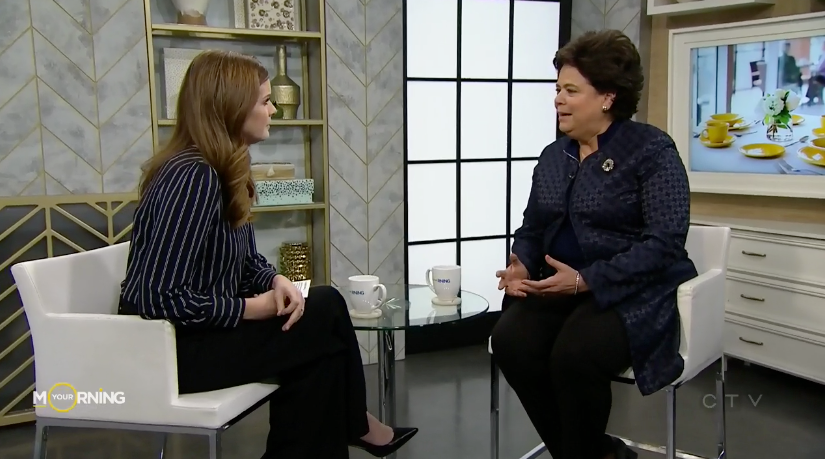 For Alzheimer's Awareness Month, national breakfast television show CTV Your Morning featured Amica for being a leader in retirement living with memory care by thoughtfully designing senior lifestyles residences to assist people living with a form of dementia. CTV Your Morning news anchor Lindsey Deluce interviewed Claudia Salgado, Amica's VP Design, to show viewers across Canada how the award-winning architect enables seniors living with cognitive impairments through accessible design features. In the interview about dementia-friendly design advancements, Salgado shared how her mother's dementia journey inspired the architect to earn a Master's in Dementia Studies. The renowned expert has also been featured in a Globe and Mail article on designing a better life for seniors.
Amica's residential interiors have the appearance of an elegant home, unlike institutional-style nursing homes or long-term care. Living in a beautiful home-like setting helps residents in Memory Care feel comfortable and safe and helps seniors maintain a high quality of life.
Salgado and her team incorporate numerous design features in Amica residences with Memory Care including:
Smart use of colour: People with dementia find it easier to navigate colours, instead of beige colour schemes typical in institutional settings. In the dining room, for example, residents are enabled at meals by brightly coloured dishes that contrast against dark wood table top or a crisp white tablecloth.
Outdoor spaces like you'd find at home: Covered patios and enclosed terraces enable residents to easily and safely enjoy the fresh air and views of their inspired surroundings in Canada's most desirable neighbourhoods where Amica residences are located.
Social spaces with comfortable surroundings: Residents come together in comfortably furnished lounges, pubs, craft kitchens and activity rooms to spend time with their neighbours, family members and certified Amica team members providing support. These spaces are sometimes connected by architectural screens that partially reveal the inviting environment, instead of walls that form a visual barrier. Read more in better design for people with dementia.
Amica residences with Memory Care
British Columbia
Ontario
Learn more about how residents are enjoying excellent amenities, activities, flexible dining and personalized Memory Care at Amica residences. Schedule a private tour today.