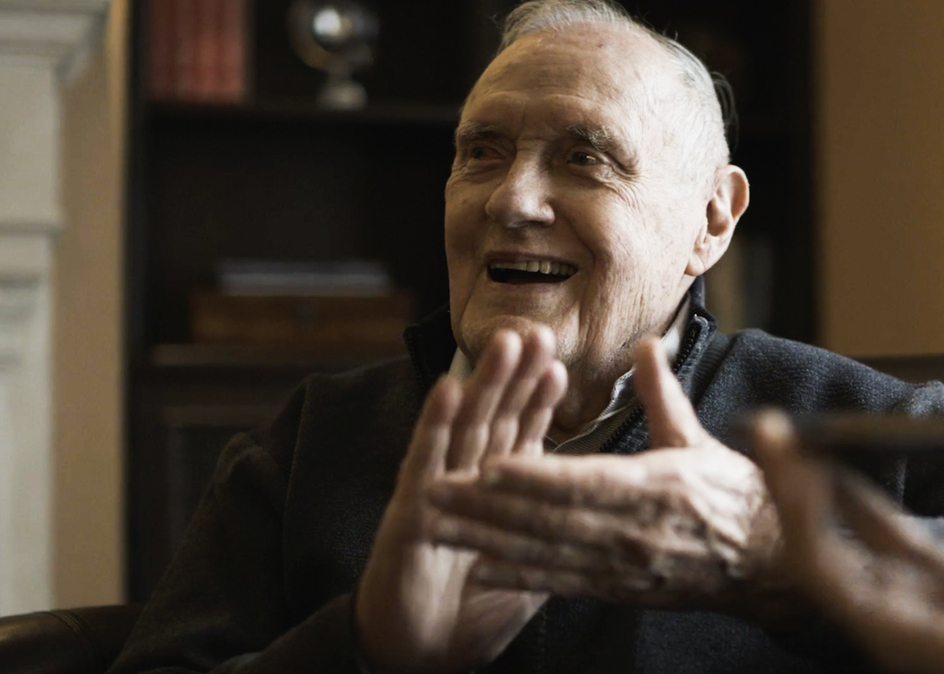 Imagine interpreting your life story into a beautiful song, and then recording it with professional musicians. Amica recently brought that dream to life for five senior residents through the Lyrics & Legacies project, part of our ongoing partnership with Roy Thomson Hall. The unique and moving initiative — one of Amica's many music therapy programs and concerts for seniors — gained national attention on CBC News thanks to its magical pairing of Amica residents with talented Canadian musicians to create original songs. (Scroll to the CBC link below.)
Bridget, a resident at Amica Peel Village, crafted her tune online during the pandemic with help from musician and songwriter J.J. Gerber. "Knowing that those human connections through music meant something and were having a positive impact on her life was really beautiful," he told CBC News.
Creating family mementoes

Al Russell, a resident living at Amica On The Avenue, developed a song that reflects his humour, positive outlook and love of Gilbert & Sullivan musicals. He even recorded his first music video: watch the video below to learn how the song writing experience helped him express himself and create a recording that his children can treasure forever.
How the Lyrics & Legacies program worked
The Lyrics & Legacies project began in spring 2020 when five Amica residents were selected for the pilot program. Life Enrichment Coordinators helped every resident compile a profile on everything from their language and cultural background to their favourite stories and songs. The residents were then matched with songwriters who had similar backgrounds, interests and musical specialities — commonalities that sparked inspiration for each final tune.
"Each of these songs is an original creation — that's what makes it special," says Vanessa Smith, Manager of Education & Outreach at The Corporation of Massey Hall and Roy Thomson Hall, who conceived and managed the project.


Play the songs and watch the CBC News video

Press the play buttons to listen to each resident's song. Plus, watch the CBC News segment featuring musician J.J. Gerber and Amica resident Bridget Hamilton.


"It was so powerful to see Amica residents like 96-year-old Sid, who loves music, record his life journey," adds Sarah Santaluce, Manager of Strategic Brand Partnerships at Amica. "Like the dementia-friendly concerts that we organized in the past, our partnership with Roy Thomson Hall helps us create innovative and one-of-a-kind experiences for seniors."
More music and fun for seniors at Amica

Amica's Lyrics & Legacies project demonstrates our understanding of the powerful role that music plays in reducing stress and boosting mood and brain function in seniors. That's why our Life Enrichment Coordinators help organize music-oriented activity sessions like DrumFIT and chair dancing, choir clubs and sing-alongs, excursions to concerts and the symphony and musical performances inside and outside Amica residences, from balcony concerts to Elvis tributes.
Musical activities are just one part of our commitment to seniors' well-being and lifelong learning. Learn more about other fun, optional activities that we organize every day, from lavender farm visits to masquerade balls, informative webinars, our urban beekeeping projects, virtual art-making with the Art Gallery of Ontario and the Vancouver Art Gallery and more. Follow us on social media to find out about our events and how Amica weaves engagement, music and magic into every day for residents in Independent Living, Assisted Living and Memory Care alike.
Schedule a tour to learn more about inspiring lifestyles for seniors including exceptional dining, amenities, activities and flexible, personalized care.