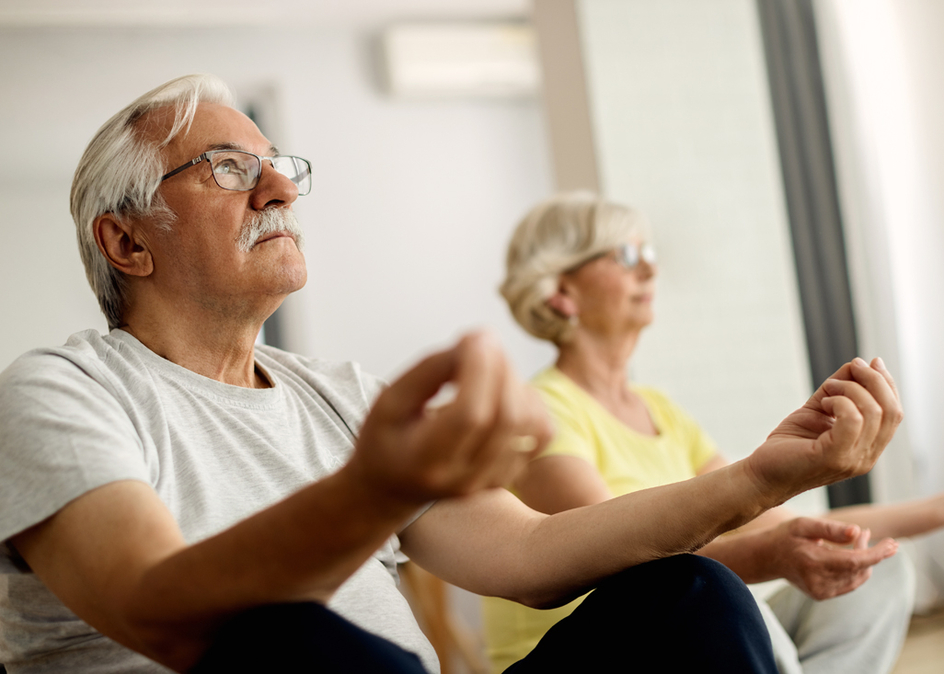 How often have you wished for a simple way to worry less, reduce stress, sleep better and feel happier? There is: it's meditation. Once considered alternative practices, mindfulness and meditation have become mainstream and research shows practicing mindfulness or and meditation cam reduce anxiety and pain, among other physical and mental health benefits. Read on to learn about some of the best affordable or free meditation videos, podcasts and apps for seniors, including options for beginners, from well-regarded meditation brands such as Headspace, Calm, Healthy Minds and more.
"We do meditation exercises at the end of yoga classes and residents always comment on how relaxed and calm it makes them feel," says Katelyn Shaw, a Life Enrichment Coordinator at Amica White Rock. "It doesn't just reduce stress and anxiety, though —it's also great for your heart and body."
What is meditation?



Even if you've never done a meditation exercise before, chances are you've engaged in some types of meditative practices, such as deep breathing to calm yourself, mindful movement, prayer or reflection. The goal of meditation is to focus your mind, connect with your body, be present in the moment and quiet your thoughts.
Read our article, 6 meditation and mindfulness tips for seniors, to try a few exercises and get more information about the differences between mindfulness and meditation.
What are the benefits of meditation for seniors?



Meditation doesn't just relax your mind and body. Used on a regular basis, it can also help you handle stress, boost your immune system and decrease anxiety, pain, blood pressure and the risk of heart disease and strokes. Seniors who meditate over time may also feel happier and more patient, focused and self-aware. Watch our national webinar to learn how this relaxation technique can also help you enjoy deeper and more restful sleep.
How can seniors start a meditation habit?



Start very simply with a 5-minute meditation session. Try this free, meditative breathing exercise first to help you focus your mind on your breath and feel oxygen traveling through your body. (Put a sticky note on your mirror or set a gentle alarm on your phone as a daily meditation reminder. Mornings can be an uplifting time for seniors to meditate. Think about why you'll enjoy meditation rather than pressuring yourself, however, so it's not stressful.) You may also find meditation classes or online guided meditations and mindfulness exercises helpful thanks to their relaxing tone and easy to follow instructions.
Do seniors need special meditation pillows and tools?



A quick Internet search reveals that there are many types of meditation cushions and pillows designed for different postures, back pain and more, along with accessories and tools such as brain sensing headbands, meditation and affirmation cards, yoga mats, singing bowls, crystals, incense and more. As a beginner, though, you only need a well-padded chair that allows you to keep your back straight and your feet on the floor. If it's more comfortable for you, you can also try meditating while sitting cross-legged on a plush mat or lying down on a bed.
The best meditation apps for seniors



Meditation apps typically offer guided meditations and breath and movement exercises to help you manage stress, tension, grief and more. You can download them on an Android or Apple phone or tablet, as well as access them online. Some offer limited content for free and a subscription price for unlimited content, while others such as Healthy Minds and Insight Timer are completely free. Headspace, Calm and Ten Percent Happier are a few easy to use, popular and recommended meditation apps.
Free YouTube meditation videos that seniors can try



Meditating is easier than ever — even for beginners — thanks to free videos that you can stream on your computer, internet-enabled TV, tablet or phone. Try one of these videos, for instance:
You may also like seniors' seated yoga exercises to help you stretch and strengthen your body, followed by meditation. Read more about the benefits of yoga, including building strength, flexibility and endurance.
Listen to these meditation podcasts



Podcasts are on-demand audio shows that you can listen to anywhere, anytime. Some are free, while others require a subscription, and you can listen to them online or via YouTube, a podcast app or a streaming service like SoundCloud or Spotify on your mobile phone, tablet, computer or TV. The Mindful Minute, Ten Percent Happier and The Daily Meditation Podcast offer guided meditations that beginners and more experienced meditators will appreciate.
Take care of your mind and body



At Amica, we don't just support your physical health, we also bolster your mental well-being with safe meditation and fitness classes, art and learning workshops, scenic outdoor excursions and fun activities that build social connections and stimulate creativity. If you're a senior who is starting to find it stressful or isolating to continue living at home, schedule a tour to learn more about the engaging social life and peace of mind that Amica offers.
Book a virtual or in-person tour to find out what it's like to enjoy living on your own terms in an elegant Amica residence with outstanding dining, amenities, activities, senior care and safety measures.