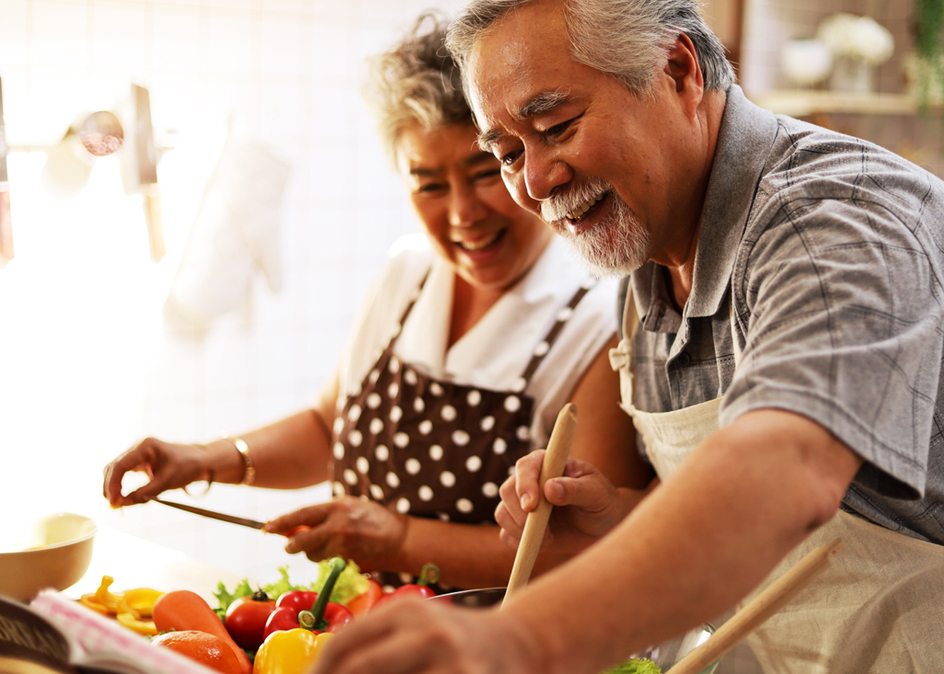 Interested in living a long, vibrant life? Choosing healthy foods each day can help, whether you're savouring fresh fruits and berries, enjoying high-fibre grains or taking a pass on a deep-fried dish. After all, heart disease — which can be prevented by eating healthy, exercising and living smoke-free — is the second leading cause of death in Canada. In fact, a nutritious diet not only helps prevent cardiovascular issues, it also helps seniors who already have heart diseases such as coronary artery disease, congestive heart failure and heart valve disease. February is Heart Month in Canada, so there's no better time to learn about the best diet for a strong, healthy heart.
"Our Amica Red Seal chefs are obsessed with creating delicious, heart-healthy meals that seniors will love," says Gary McBlain, Amica's National Director of Culinary Services. "It starts with choosing nutritious ingredients like leafy greens, sweet potatoes and other seasonal vegetables, low-fat dairy, lean local meats and fish with omega-3 fatty acids."
Heart health and aging



As we age, our cardiovascular system changes. Our heart wall, heart valves and blood vessels thicken and our heart rate slows, among other things. That's why seniors aged 65 and older are more likely to have heart disease and heart attacks. Other heart disease and stroke risk factors include obesity, high cholesterol, high blood pressure, diabetes, smoking or second-hand smoke exposure, poor diet and inactivity. Ask your doctor to do medical tests if you have signs of heart disease such as angina or chest pain or pressure, heart palpitations, shortness of breath or weakness. While you can't change a family history of cardiovascular problems, you can reduce your risk by quitting smoking, getting active and eating healthy foods that help avert heart disease.
Eating to prevent heart disease



Seniors often have different dietary needs than their younger counterparts. Read our Guide to healthy eating for seniors, Healthy eating tips from Canada's Food Guide and the Most needed nutrients for seniors to better understand why older adults require more protein, calcium, iron and vitamin B12 to build muscle, heart health and blood cells, as well as fight off infections. Likewise, seniors should choose heart-smart foods that are nutrient dense and low in sugar, salt and saturated fat. The bonus is that a heart-healthy diet can also lower your likelihood of obesity, high blood pressure, diabetes and cancer.
Foods and nutrients you need in a heart-healthy diet



Choosing healthy meals, snacks and drinks each day will help reduce the risk of heart disease and stroke. If you or a loved one already have cardiovascular conditions, foods like the ones below help curb LDL (''bad'') cholesterol, lower blood pressure and blood sugar and facilitate weight loss. Plan to include small portions of these nutritious foods in your daily diet:
Fresh vegetables and fruits with vitamins, minerals and other heart-healthy compounds
High-fibre foods, which slow carbohydrate absorption and help prevent blood sugar spikes, such as beans, lentils and whole-grain breads and cereals
Grilled, broiled or baked fish such as salmon and sardines with heart-healthy omega-3 fats
Low fat dairy products such as skim or 1% milk, low fat yogurt and cheese with less than 15% M.F.
Unsalted seeds and nuts like walnuts, almonds, pecans and hazelnuts, which lower your low-density lipoprotein ("bad") cholesterol (known to cause plaque build up in arteries) and triglyceride levels. (High triglyceride levels may cause artery hardening or thickening of artery walls.)
Protein-rich soy products, eggs, skinless poultry and lean ground meats
Healthier monounsaturated oils such as canola, safflower or olive oil.
6-8 glasses of water to stay hydrated and help your heart pump blood.
Read Heart healthy cuisine for seniors and Chef's secrets for delicious special diets for inspiration on transforming these nutritious ingredients into scrumptious dishes.
Eat less of these foods for better heart health



Do your heart and waistline a favour and avoid or limit these foods in your daily diet:
Breads, cereals and pastries made with refined flour and sugar rather than whole grains
Foods with high amounts of saturated fat such as full-fat milk, butter, cream sauces and creamers and higher-fat meats
Fried and breaded foods
Processed foods or fatty meats such as hot dogs, bacon, spareribs and marbled steak
Salty foods and snacks because sodium is linked to high blood pressure. (Artery damage from high blood pressure can lead to heart disease.)
Canned soups and prepared meals that aren't marked as low sodium
Unhealthy oils and trans fats such as hydrogenated margarine and shortening and coconut, palm, cottonseed and palm kernel oils, which can raise bad cholesterol
Sugar and sugary treats and drinks
Junk foods such as chips, buttered popcorn, ice cream and cookies
Alcoholic beverages which can contain added sugars. (Too many drinks can raise triglycerides, as well.)
Making your heart-healthy diet taste great



Heart smart eating and cooking don't have to be a chore for seniors and caregivers. Try these healthier cooking tips, which Amica chefs use all the time for residents with special diets:
Cook with non-stick cooking spray or stir-fry with a small amount of canola or safflower oil.
Drain and rinse canned vegetables, beans and seafood or meat to remove excess oil or salt.
Grill, broil, bake, poach, braise or stew fish and meat rather than frying it. (Trimming any visible fat off meat first.)
Season dishes with zesty citrus juices, flavoured vinegars, garlic and heart healthy spices and herbs such as fresh pepper, basil, parsley, oregano and thyme.
Garnish oatmeal and cereal with fresh fruit for vitamins, fibre and sweetness without sugar.
Use a heart healthy sweetener such as stevia instead of sugar in drinks and desserts.
If cooking at home is becoming more difficult, however, there's a lot to be said for having your meals and snacks made for you by Red Seal chefs at Amica. Residents say that not having to cook is one of the top perks of senior living, in addition to the engaging activities, camaraderie and premium amenities. Plus, residents know that they can choose from a wide variety of foods at every meal, from comfort foods to heart-healthy dishes marked with a heart icon. So you can raise a glass with friends while enjoying nutritious, flavour-packed meals. Now that's what we call heart smart!
Book a virtual or in-person tour to find out what it's like to enjoy living on your own terms in an elegant Amica residence with outstanding dining, amenities, activities, senior care and safety measures.