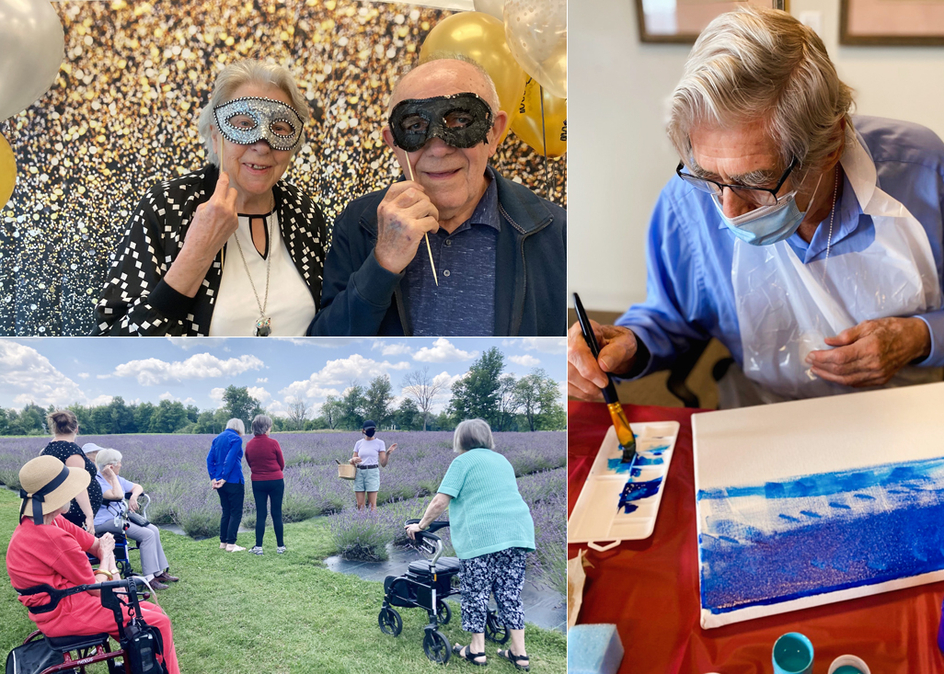 It's been said that variety is the spice of life, and that's certainly true at Amica. If you're curious about retirement living and have ever wondered which fun activities for seniors in retirement homes that you'd enjoy most, read on. After all, Amica residents get to choose from six to eight optional activities each day, ranging from playing billiards, going on a winery tour or visiting a local ice cream parlour to catching a new rhythm in DrumFIT. The wide selection reflects residents' varied interests because they collaborate with Amica Life Enrichment Coordinators, who organize safe, entertaining and social events that brighten spirits, foster connection and stimulate seniors' creativity and zest for life.
"Our theme nights and special events give residents excitement and a chance to interact in a safe, familiar and joyful setting," says Terry Wong, a Life Enrichment Coordinator at Amica Somerset House. "Somerset House is often referred to as 'the palace on Dallas,' so we try to make the events as elegant as we can. Our residents like to party!"
Creative activities for seniors



Painting with watercolours, making crafts and mini-terrariums and learning Ikebana, the art of Japanese flower arranging, are just a few of the ways that Amica residents express their imagination. These activities aren't just a fun way to socialize, they're also good for your brain and fine motor skills. (Find out more about brain boosting activities.) Plus, they're an engaging complement to Amica's fitness classes, movie nights, learning seminars and volunteering opportunities.
Theme parties for seniors



Want a chance to dress up and get down? Amica Life Enrichment Coordinators love cooking up creative and unique themed parties for seniors. When you show up at a Hawaiian Luau, a Nuit Blanche party or an Elvis tribute concert, for instance, you'll find the team has transformed the space with decorations, music and cocktails to set the scene. Residents can suggest special events, too. At Amica Douglas House, for example, resident Darlene helps organize an annual fairy garden tea party where residents don colourful fascinators, sip tea and enjoy the sunshine.
"It's fun for residents to help with planning and see their ideas come to life," says April Powell, a Life Enrichment Coordinator at Amica Whitby.
12 incredible experiences for seniors (and counting…)
Bored of doing the same old thing? If so, which of these recent Amica activity examples most appeals to you?
Bottling your own Pinot Grigio before enjoying a wine and cheese tasting
Dressing up in bright colours with adorable dogs for a Pride Day photo shoot
Savouring lunch at the beach, with tranquil views and bird-watching
Watching "I Love Lucy" outside with friends on a warm summer evening
Learning about giant octopus, sharks and jellyfish at a local aquarium
Taste testing local and imported brews for National Beer Day
Playing games and dunking Amica team members at a summer carnival
Getting up close and personal with snakes and lizards at a hands-on reptile session
Savouring blue skies and cocktails on a summertime boat cruise
Learning about life on a lavender or horse farm
Visiting a mind-bending art exhibit of optical illusions
Taking in majestic views at local conservation areas
Looking for even more inspiration? Read 9 amazing activities for seniors in retirement living to learn more about events that seniors at Amica have especially enjoyed.

Fun holiday activities for seniors



Celebrating holidays and cultural events offers entertainment, camaraderie and creative expression for seniors at Amica. Whether they're toasting St. Patrick's Day with Irish Coffees, making Easter bonnets, carving pumpkins at Halloween, listening to yodeling and raising a glass at Oktoberfest, lighting candles for Hanukkah or attending a Christmas-themed concert at the symphony, Amica residents savour every season.
"Many Amica residences have celebrated Chinese New Year, Caribana, Diwali and more," adds Powell. "Residents love shaking up their day-to-day routines and exploring different cultural traditions and cuisines. We recently did a Master Chef competition with residents competing to create an evening menu, for instance, so one team did a Caribbean theme."
Life Enrichment Coordinators spin cultural and sporting events into good times for seniors, as well. For example, golf season inspired us to organize putting practice on the Amica Riverside grounds, while seniors at Amica Newmarket celebrated the summer Olympics by competing in pool-noodle "javelin" throwing and beanbag "shot put" contest. At Amica, fresh air, fun and friendship are always a winning combination.
If you or a senior loved one feel ready for a fresh start or a social recharge — along with exceptional dining and access to professional, personalized care — book a virtual tour at your local Amica residence today. Plus, learn retirement living secrets from Joyce and other Amica residents who traded home chores and a shrinking social circle for connection and a full roster of entertaining daily activities, clubs, fitness classes and excursions. After all, there's no time like the present to get more out life.
Book a virtual or in-person tour to find out what it's like to enjoy living on your own terms in an elegant Amica residence with outstanding dining, amenities, activities, senior care and safety measures.