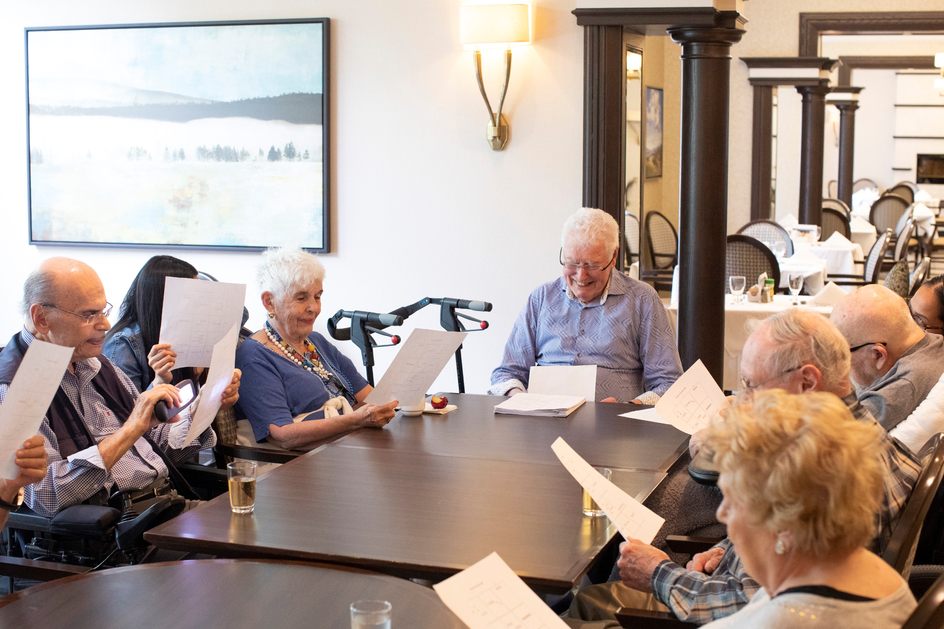 Initially, it wasn't easy for Bob to leave his small-town life in Port Hope and relocate to Amica On The Avenue, a Toronto senior living residence.
"It was tough leaving where I lived for 10 years," the former manager at IBM Canada told a reporter for the Globe and Mail. "But now I'm here and I'm a happy camper."
Four years after his wife had died, 86-year-old Bob found himself living alone in Port Hope, yet frequently driving 100-plus kilometres to Toronto for medical care. Concerned about their dad, his five adult children wondered if he wouldn't be safer and happier moving to senior living in Toronto. "I gave up my license, came to Amica on a two-week trial basis and I haven't looked back," he says.
"He told us on day two that this was where he wanted to be," says his daughter, Marnie, who lives nearby and visits often.
What does Bob like best about his new home at Amica On The Avenue? He loves the company. "Before I moved here I was involved in a lot of activities but I found I was still spending a lot of time on my own. That's remedied in this establishment," he says. Bob also enjoys his bright, one-bedroom suite and a lifestyle that includes high-quality dining, a fitness centre, pool, scheduled transportation, entertainment and other amenities and activities.
As a health risk for seniors, loneliness is "worse than smoking, it's worse than obesity," says gerontologist Miriam Larson, who works with the nonprofit organization Allies in Aging. "We didn't realize how much it can affect health beyond just quality of life." A recent U.S. survey on healthy aging found that roughly one-third of seniors feel lonely. More than a third reported sometimes feeling a lack of companionship; 27% felt isolated.
Overcoming loneliness is one of the biggest challenges for seniors — and a major advantage of senior living — says Dr. Heather Palmer, Amica's National Director of Cognitive Well-being, an expert on cognitive aging who is frequently interviewed on TV and radio. Fortunately, retirement living can ease loneliness because seniors have support, care and activities along with events, birthday parties, movie nights and a dining room where neighbours gather to eat, socialize and enjoy a glass of wine together.
There's often a direct connection between growing older and becoming lonely, explains Dr. Palmer. "As we get older, the parts of our brain that change impact our ability to take initiative, to plan and organize. Yet social engagement often requires initiative; it takes planning and organizing."
That's why senior living helps: Amica provides a setting and staff that give people opportunities to try new experiences.
"They keep us busy," Bob told the Globe and Mail. We have a wonderful Life Enrichment Coordinator directing activities. We have excursions, including out of town trips to the Shaw Festival and the Stratford Festival. I also go to exercise every morning. When you have so many activities, the days go quickly and you look forward to the next day."
His children are thrilled for their dad and appreciate living closer to him. Daughter Marnie lives within walking distance. "I come over a lot for meals, and we have family game nights here. I know some people worry it will be sad to visit a seniors' residence, but it's not that way here at all." You can read more about how to prevent loneliness in seniors in this Globe and Mail article.
Learn more about great amenities, activities, dining and personalized care when you schedule a private tour of an Amica residence near you.