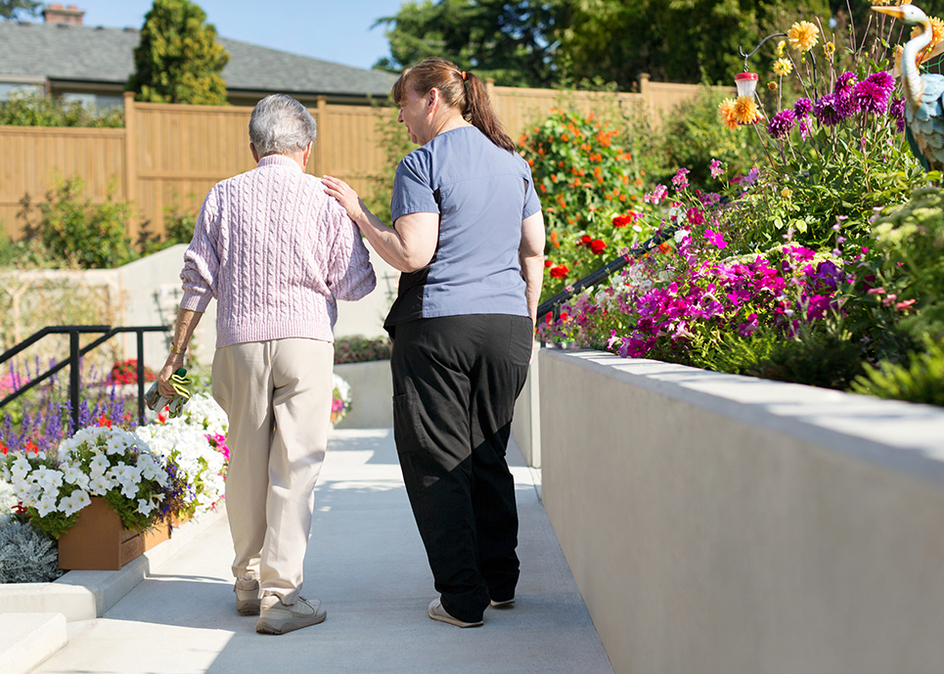 Are you updating a home or looking for a new space that will allow you or a senior loved one to age in place safely? It's smart to learn about potential hazards and how to prevent injuries and falls first. After all, half of the falls that lead to senior hospitalization in Canada happen at home. You'll find senior safety tips and senior friendly home design, furniture and decorating advice here for living rooms, kitchens, bedrooms, bathrooms and more.
"You want to remove barriers so seniors can stay mobile and feel independent," says Amal Madanat, Amica's Vice President of Design. "At Amica, seniors are at the centre of everything we design; each residence is thoughtfully designed with safety as the top priority."
Review our Home Safety for Seniors Guide for starters. Based on insights from the Public Health Agency of Canada, The Canada Safety Council and Amica experts, it includes indoor and outdoor safety recommendations, interior design tips for seniors, information on the latest senior security devices and monitoring systems, and strategies to create safe spaces for seniors with dementia, hearing impairment and low vision. Plus, talk to healthcare experts about additional safety and design guidance specific for you or your senior loved one's needs.
Why is home safety so important for seniors?
Over time, aging impacts our physical, mental and sensory abilities. Even active, independent seniors may experience some of the factors below that contribute to injury and fall risk:
Vision changes, from vision loss and depth-perception issues to eyes taking longer to adjust from light to dark;

Sensory changes, such as hearing loss (which affects balance), or an inability to smell potential dangers such as natural gas;

Balance and coordination, which can change as we age, increasing the risk of falls;

Mobility issues and bone loss. A variety of physical ailments can make it more difficult to get around safely and more dangerous when injury occurs; and

Cognitive and memory issues can also put seniors at risk. Find out why seniors with different types of dementia, such as Alzheimer's disease, may experience balance, coordination and depth-perception challenges in our article, What living with dementia looks like.
"What's unique at Amica is our focus on creating an elegant, homey and safe atmosphere throughout all our neighbourhoods, including Independent Living, Assisted Living and Memory Care," says Madanat. "For example, we use contrasting colours to help seniors distinguish different objects, artwork that creates visual cues for wayfinding, wider corridors to accommodate mobility devices and wheelchairs, and continuous railings that seniors can hold for support."
Essential safety tips for every senior's house
Older adults benefit when we design spaces with safety-focused, senior friendly home features. Indoors and out, the following actions reduce risk for all:
Increase visibility: We need more light to see as we get older, so it's important to install senior-friendly light fixtures that provide the right amount of illumination. Night lights with motion sensors that turn on when it's dark also prevent and reduce the risk of falls.


Check handrails regularly to ensure they are properly fixed, comfortable to touch and continuous.


Reduce glare: Seniors' eyes are more sensitive to bright lights and glare, so try to avoid finishes that are highly reflective and consider using blinds or curtains on windows with direct sunlight.


Choose non-slip flooring: Replace area rugs and other trip hazards with non-slip flooring options. Research shows that installing easy-to-clean carpet can reduce the risk of fall-related hip fractures.


Install well-anchored grab bars and non-slip flooring in the bathroom and replace bathtubs with accessible showers for seniors.

Ensure that electrical work and appliances are up to code and keep space heaters away from flammable materials and substances.

Install and test smoke and carbon monoxide detectors on each level of a home and install a fire extinguisher in the kitchen.

Keep a first aid kit in the kitchen or bathroom.
"You want to picture yourself in the senior's shoes, and think about how they'll use a space," says Madanat. "We design our suites and neighbourhoods to provide an elevated lifestyle that makes seniors feel good, safe and proud to call Amica home."
Bookmark our Home Safety for Seniors Checklist for more detailed instructions on designing for seniors and boosting safety indoors and out, including recommendations for hallways, living rooms and dens, kitchens, bathrooms, bedrooms, laundry rooms and basements.
Interior design for seniors
Every Amica residence is purpose-built with innovative, senior-friendly safety details that allow residents of different ages and abilities to flourish. You can apply many of the same principles when you're decorating for seniors at home.
"It's important to remember that seniors often hold on to furniture as they move around," says Madanat. "That's why we choose furniture that's extremely stable at Amica, such as chairs with arms for seniors to hold on to, and tables at the right height."
Follow these home safety tips for seniors:
Decorate rooms with ample space for mobility and ensure that handrails and shelves are sturdy;

Reduce clutter, such as multiple small tables that can be tripping hazards;

Choose firm, brightly coloured and senior-friendly furniture with arms and rounded edges. (Avoid glass-topped tables, which may be difficult for some seniors to see);

Reduce the number of flooring transitions. Ensure edges between different flooring types are smooth to avoid tripping;

Add more lighting, including pendants, sconces and task lights, such as wall-mounted reading lights and undermounted cabinet lights, for more visibility;

Enlarge or add windows for natural light. At Amica's newest residences, for instance, windows are built bigger and lower so seniors can enjoy a view even when propped in bed or in a chair;

Design kitchens to accommodate seated meal prep and easy access drawers, with heavy items stored below counters to avoid reaching and falls; and

Renovate bathrooms with support bars and ample room. At Amica, for example, bathroom layouts have a five-foot turning radius for wheelchairs and walkers, grab bars in all the right places and a higher accessibility toilet and barrier free showers.
Download our Home Safety for Seniors Guide for more comprehensive tips about home décor, safe design and home modifications for seniors, including those with vision, hearing, mobility and cognitive challenges.
Dementia-friendly design for seniors
Safe design is especially important if a senior has Alzheimer's disease or another form of dementia, which can contribute to balance, depth-perception, cognitive and memory issues. All the general safety tips shared thus far apply, plus consider additional efforts such as avoiding busy wallpapers or carpet designs, putting decals on glass doors so they're not perceived as open spaces, and installing safety gates and monitors, as well as automatic shut-off and anti-scald devices. The Home Safety for Seniors Guide includes more senior friendly home advice, plus contact your provincial Alzheimer Society office to direct you to local aging-in-place safety experts.
At Amica, our Memory Care design elements allow residents to live well with dementia, says Madanat. These include stylish feature walls that help residents find their way around, homey décor, calming colours, art that inspires memories, high-contrast materials to help residents distinguish surfaces and secure outdoor terraces for walking, gardening and socializing.
Invest in a well-designed life at Amica
Safety proofing a home can be a time-consuming and expensive task, especially if you're already thinking about the lifestyle and social benefits of moving to senior living. Moving into an Independent Living, Assisted Living or Memory Care suite at Amica lets you enjoy engaging activities, outstanding dining and premium amenities in a residence built with safety in mind. Amica's thoughtful design features, from supportive bathrooms to excellent lighting, work for your current and future mobility needs. Plus, our cultural outings, dinner dances, fitness classes and clubs are designed to boost activity levels and joie de vivre!
"At Amica, we design our residences and experiences to enhance well-being," says Madanat. "Thoughtful, safe and barrier-free design increases seniors' capability, and that's a great feeling."
So why not book a virtual or in-person tour or a trial stay to find out what it's like to live on your own terms in an elegant Amica residence with exceptional dining, amenities, activities, senior care and safety measures?