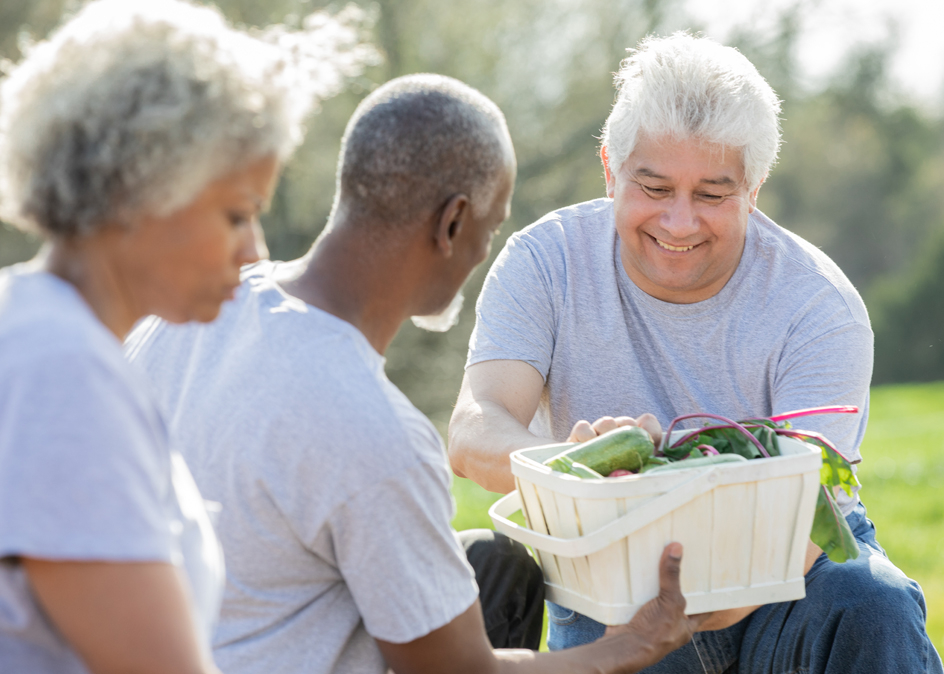 However you define quality of life, chances are you'd like to boost it well into your 70s, 80s and 90s. Seniors in Canada are fortunate to live in a country that routinely ranks in the top of quality-of-life indexes, such as the OECD Better Life Index. Still, there are always ways to improve your quality of life after 65. Consider healthy aging tips for seniors such as spending time with friends and loved ones, helping your community, embracing active aging with more movement and exercise, trying new things and staying engaged and independent.
"At Amica, our goal is to connect seniors with opportunities to fill their days with purpose and meaning, by understanding their interests, past and values," says Ashley Sumler, Amica's Quality of Life Director. Amica programs that allow residents to write songs, such as Lyrics & Legacies, or Dreaming to Doing, which enables seniors to fulfill wishes like walking around the top of the CN Tower, demonstrate Amica's focus on living life to the fullest.
What is quality of life?
While everyone has their own definition of quality of life, most organizations define it as well-being or life satisfaction based on factors such as social connections, mental and physical health, comfort and a sense of purpose. You can't stop the aging process, but researchers say you can age well by staying active and independent, having a strong social network, sharing knowledge and contributing to your community.
The good news is that according to Statistics Canada, Canadians over 60, 70 and 80 are much more satisfied with their lives and personal relationships than younger Canadians. (Although they're less satisfied with their health.) Choosing to live in a Canadian town or city with the best quality of life makes a difference, too. That's one of the reasons why Amica has residences in Vancouver, Victoria, Sidney, Ottawa, Brampton, Windsor, Toronto and other senior-friendly places that rank high for liveability and well-being.
1. Keep connecting with others
Why is it that some people don't seem to age? A busy social calendar helps. Meaningful social relationships and being part of a community improve seniors' quality of life, say experts at McMaster University and elsewhere. Whether you email an old friend, join a new club or invite a neighbour over for coffee, consistent social contact decreases your likelihood of depression and dementia and boosts your mood and cognitive function. Learn how adults who connect with friends and family members more often are more likely to eat better, exercise and have better health outcomes in our healthy aging article, 8 reasons why friendships are important for seniors.
"Creating a space where seniors have meaningful connections is where the magic happens," agrees Sumler. "When Amica residents share experiences, feelings and opinions, it boosts the feeling of belonging."
2. Exercise to improve your quality of life
What's the secret of people who live longer? It's often physical activity, which is associated with enhanced health, mood and brain function. Yet seniors are the most inactive segment of Canada's population. According to Active Aging Canada and Statistics Canada, only one in five older adults gets the recommended 150 minutes of moderate-to-vigorous physical activity per week. Focusing on things you enjoy can make being active more fun, so you avoid loss of independence. Walking with friends at the mall for instance, doing an easy seated chair workout or dancing are all easy ways to keep your body healthy and maintain strength and mobility.
"Percussion-based exercise, musical movement, gardening programs and fitness challenges are just few of the fun ways that Amica helps residents stay active," says Sumler. These complement Amica's regular fitness classes, swimming and aquacise, walking clubs and more.
3. Help others (and help yourself)
Wondering how to age well? Older adults who assist others, contribute to a community or volunteer are more likely to feel a sense of purpose, meaning and independence, say experts. Helping and volunteering use your time and talents, build local relationships and may even boost your health. For instance, older adult volunteers tend to have less stress, better physical and mental health and a lower risk of disease, according to the Mayo Clinic. That's why Amica helps seniors fundraise for good causes, mentor intergenerational activities and volunteer with local organizations and the Amica Helping Hands Charity.
4. Consider senior living at Amica
If your social circle is narrowing and you're tired of cooking and cleaning, it may be time for a fresh start at Amica, where the things you want to do are the only things you have to do. After all, there's no need to fear aging when you're meeting other seniors, having fun and focusing on staying healthy and happy. With a premium lifestyle and the option to enjoy personalized, professional care for your total well-being, senior living at Amica epitomizes quality of life.
"Every person's view of a good life looks different," says Sumler. "By taking the time to get to know the needs, wants and vision a senior has for their life — understanding what engages and is most meaningful to them — we can honour and support them to live their best life."
Book a virtual or in-person tour to find out what it's like to enjoy living on your own terms in an elegant Amica residence with outstanding dining, amenities, activities, senior care and safety measures.