The list of exercise benefits for seniors is long and promising: staying active can help seniors stay independent, improve balance, reduce falls and lower the risk of stroke, heart disease, some cancers and more. Fortunately, staying active just got a little easier, thanks to our new free workout for seniors. Unlike many workout videos on YouTube, this fitness video is especially designed to be accessible for seniors with a variety of mobility needs. This 30-minute workout features low-impact exercises using a chair for stability, light weights for strength and stretches to relax muscles and release stress.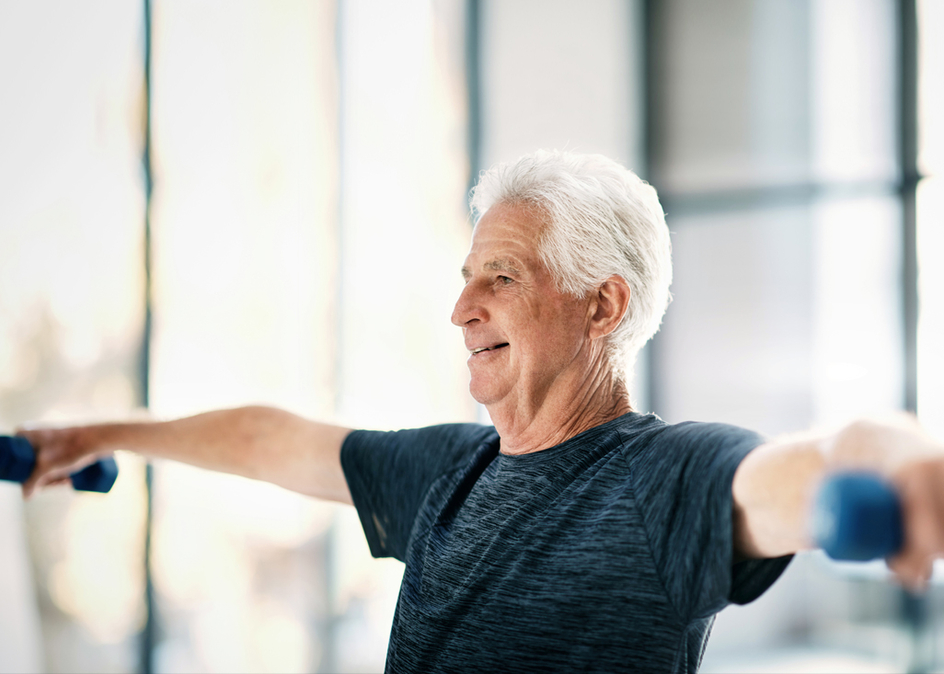 Exercise programs for older adults are just one of the ways Amica empowers seniors to stay healthy physically, mentally and socially. Every residence offers a range of activities, amenities and equipment to support seniors' health and wellness. In fact, some residents who arrive needing mobility assistance have improved their strength enough at in-house exercise classes to dramatically reduce their need for support. Here's how:

Daily accessible fitness classes
"At Amica, we have fitness programs every day that are customized to different levels of ability, including programs for Independent Living, Assisted Living and Memory Care," says Ashley Sumler, Amica's Manager of Life Enrichment. "From Zumba or ballroom dancing to seated Tai Chi and Strengthening classes, there is something for every level of fitness."

Other examples of fitness classes for seniors at Amica include yoga, Aquafit, drum fitness, seated volleyball, chair soccer, bowling and more. Ask about the exercise programs available when you book a tour at your nearest residence.

Pools, gyms and active excursions
Every Amica residence is designed to include a variety of amenities where seniors can stay as active indoors and out. Depending on the residence, this may include:
In-house fitness centre
Exercise equipment such as free weights, resistance bands, recumbent steppers, stationary bikes and more
Activity room for group classes or individual workouts
Indoor pool for swimming or pool fitness
Billiards table
Landscaped outdoor spaces and walking paths
Spacious hallways for safe indoor walking
Patios and balconies where residents did outdoor fitness workouts during the pandemic, led by instructors demonstrating from sidewalks and courtyards
Scheduled outings to walk at local parks, boardwalks and conservation areas

Certified fitness instructors
Every Amica residence has Life Enrichment Coordinators on staff. As well as organizing all social events, recreational activities and entertainment, they are also certified fitness instructors leading daily exercise classes for seniors of all abilities.

Exercise challenges for seniors
The fitness video was originally created as part of a 31-day fitness challenge to help seniors across Canada stay safely active at home during the pandemic. While local gyms, pools and community centres remained closed due to COVID-19, Amica residents were able to stay active and social in our residence bubbles thanks to high vaccination rates and comprehensive safety measures. Past fitness events by Amica residences have included a walking challenge to see how far seniors could collectively walk across Canada, and a Terry Fox–inspired cycling challenge at Amica Swan Lake.


Try a free workout for seniors from Amica

It's wise to talk to your health care provider before starting a new exercise regime. When you're cleared, get yourself a chair and light weights you can easily grip and lift, such as dumbbells, soup cans or water bottles (either full, partially full or empty). In this Strengthen and Stretch workout video, you'll be following Peter Christiansen, a Life Enrichment Coordinator and fitness instructor at
Amica West Vancouver
. Find more exercise ideas for older adults in
Indoor Fitness for Seniors
and follow Amica Senior Lifestyles on Facebook and Instagram for more lifestyle and fitness inspiration.
Book a virtual or in-person tour
to find out what it's like to live on your terms in an elegant Amica residence with outstanding dining, amenities, activities, senior care and safety measures.