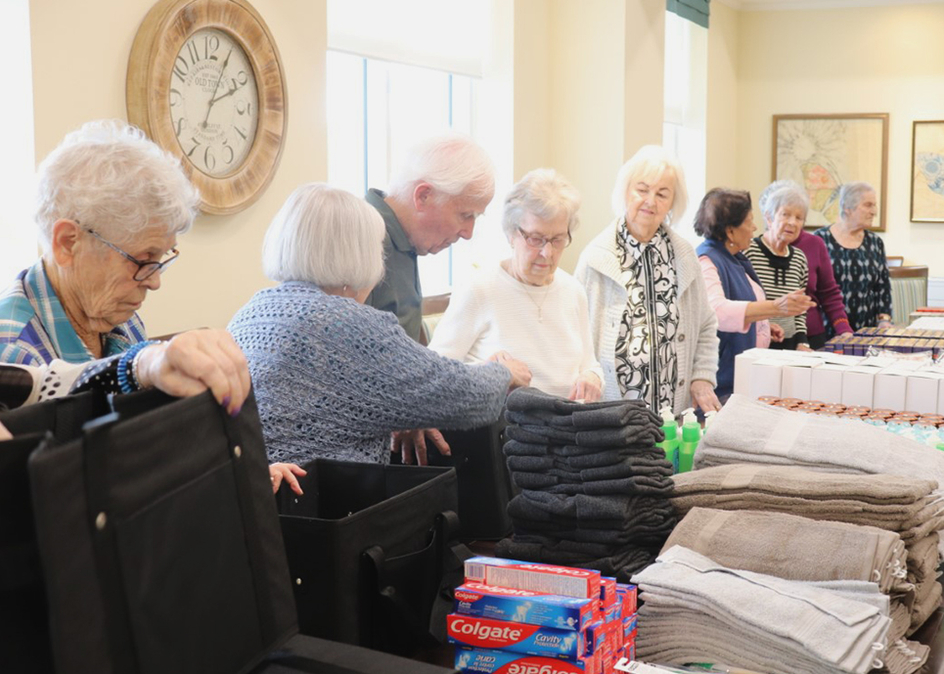 Life at Amica is back to normal, but our hearts, minds and fundraising efforts remain focused on helping low-income seniors — among the hardest hit in the pandemic. For instance, the Amica Helping Hands Charity (AHHC) recently funded hearing aids for an 89-year-old senior suffering from hearing challenges, cognitive impairment and isolation. This gift allowed her to communicate with her family again. The charity also supplies food, gift baskets filled with necessities and funding for vital medical and social services not covered by health insurance to support vulnerable seniors who need our help more than ever.
Even though our annual, in-person fundraising event was cancelled due to the pandemic, our sponsors, team members and residents still went above and beyond to raise $445,000 in 2021," says Doug MacLatchy, CEO of Amica Senior Lifestyles and Chairman of the Board for the Amica Helping Hands Charity. "That brings us to $4.4 million raised to date."
What is the Amica Helping Hands Charity?
Established in 2003, the Amica Helping Hands Charity is a registered Canadian charity that provides Canadian seniors in need with goods, funds and services to help them thrive. Amica residents and team members fundraise throughout the year for the charity, by selling or auctioning their handmade crafts and artwork, for instance. In addition, the charity receives corporate sponsorship from valued partners across the country. AHHC then partners with local non-profits, community-service groups and health organizations to assist seniors who need it most.
Holiday gift baskets that make a difference
Every year, Amica residents and team members work with local organizations to lovingly pack and distribute gift baskets with non-perishable foods, a grocery store or pharmacy gift card and hand-knit items created by Amica residents, such as a scarf or blanket. In 2021, we delivered 2,600 baskets across Canada to low-income seniors.
As one grateful recipient wrote, "I cannot fully express just how much this Christmas gift meant to me in this most difficult year. The goodwill spirit of your thoughtful gift basket will nurture me.
I just received a wonderful hamper of goodies," another gift-basket recipient shared. "It brings a ray of sunshine to my life during these trying times.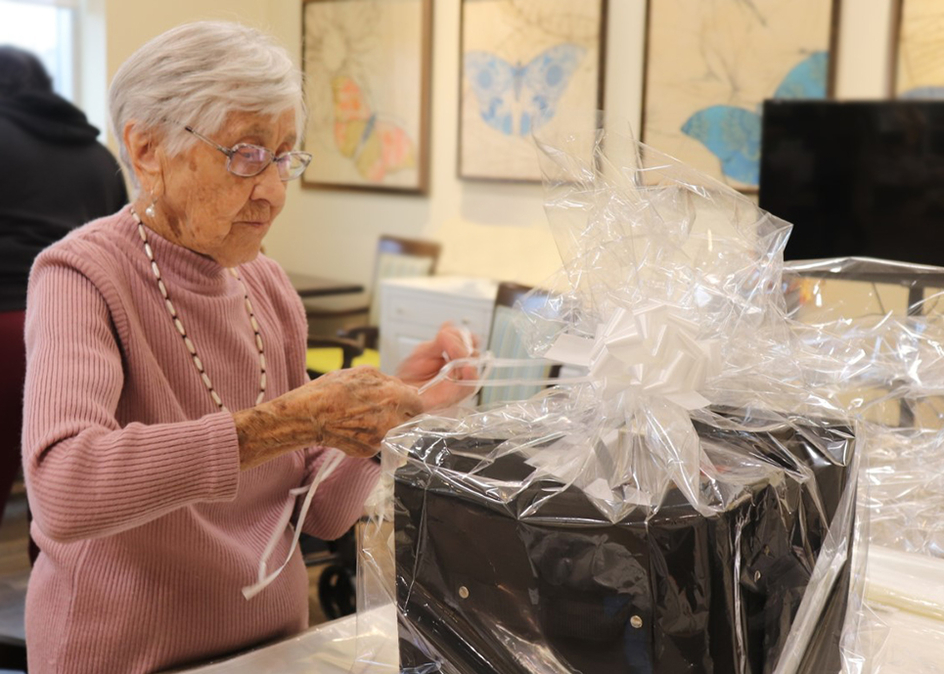 Supporting seniors through hospital foundations
The Amica Helping Hands Compassionate Fund also gives hundreds of thousands of dollars to non-profit seniors' and healthcare organizations such as Lions Gate Hospital Foundation in British Columbia and William Osler Health System Foundation in Ontario. Those funds provide invaluable assistance for individual seniors, from covering the costs of dentures or dental work to paying for therapy equipment, mobility devices, nutritional supplements and more.
As MacLatchy says, "With your support, Lions Gate was able to provide grocery delivery to seniors, help fill much-needed prescriptions and even helped keep an 83-year-old client with Parkinson's disease safe in his home by providing critically needed grab bars."
Creating innovative fundraisers each year
Amica team members and residents love dreaming up new and creative ways to raise funds for the charity. Amica Stoney Creek hosted a magical Christmas Market fundraiser this past December, for example, complete with horse-drawn sleigh rides, a live ice sculpting demonstration, hot drinks and snacks and even a visit from Santa and his elf. At Amica Westboro Park, meanwhile, team members sold raffle tickets for a fully furnished and assembled Dream Doll House with a gift card in each room. These efforts not only raise money for underprivileged seniors, but they also create experiences where volunteers can share their time and talents. (You can see Amica residents and team members in action on social media: just search on the hashtag #AmicaHelpingHands.)
Generous corporate sponsors
"We're so grateful for all our sponsors who continue to support Amica Helping Hands year after year," adds MacLatchy. "Special thanks to our title sponsor, CIBC, and to KPMG, Bank of Montreal and Newmark for their lead donations in 2021.
We are grateful to other corporate donors as well, such as Ambient Mechanical, Amico Affiliates, Daniels Corporation, Deloitte LLP, Intracorp, Marcon, Milliken Developments, NFP Canada, Rogers Communications, SGP Network, Succession Development Corporation, Sysco and Torys LLP. The success of Amica Helping Hands Charity fundraising efforts simply wouldn't be possible without these donors.
Why giving all year long makes a difference
While we may be accustomed to giving at certain times of the year, such as the holidays, the reality is that vulnerable seniors are dealing with poverty, isolation and expensive medical issues all year long. So please consider donating to the Amica Helping Hands Charity today. It truly is a gift that keeps on giving.