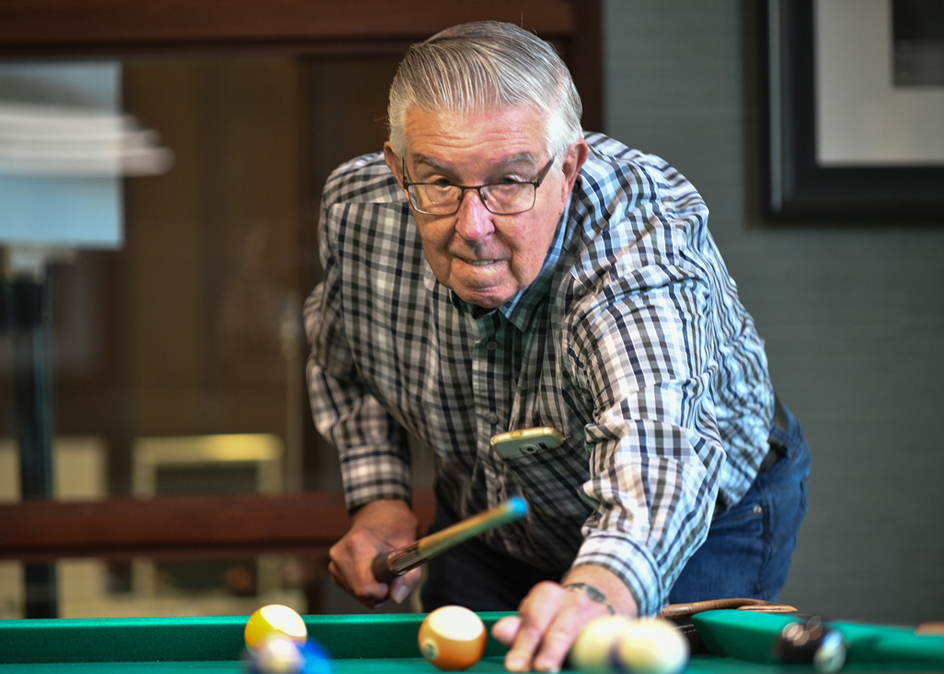 Have you ever wondered why seniors choose retirement residences versus staying at home? Safety, companionship, access to personalized professional care and not wanting to cook anymore are just a few of the factors they consider when they move to senior living. Here, Amica residents share the advantages of retirement living, and the reasons why they happily sold their homes and chose Amica Senior Lifestyles. While every senior is motivated to move for different reasons, they all share a deep appreciation for the hospitality and lifestyle that senior living offers.
Lynn and Dick moved into Amica London because their children wanted them to live closer and have care, for instance, never imagining that they'd be enjoying such a full schedule between fitness classes, book club, playing cards and socializing. "You make friends here quickly and the staff are fabulous," says Lynn. "We're in a safe environment and keeping active. We feel well looked after."
Reason #1: When a spouse needs more care
92-year-old George starts each morning at Amica Riverside in Windsor with 30 minutes of stretching in the residence pool before heading down to breakfast. Some days he reads the paper in his suite overlooking Belle Isle in the Detroit River, or he'll join friends for a beer and a corned beef sandwich at a local restaurant. Later, he'll visit his wife, Barbara: she's blind and has around-the-clock assistance in Assisted Living on the residence's second floor.
George is grateful to live in the same location as his wife, even though he can no longer care for her, which is why he was delighted to find a retirement residence with different care options in the same building. "It's a comfort to me that she is so well looked after," he says. "To be able to have that time together but also know she's getting help is so, so reassuring."
If your spouse needs care, read our guide to senior living care options, including information about private-pay retirement residences and government-subsidized long-term care or nursing homes in Ontario, Alberta and BC. Also, bookmark articles such as Answers to top questions about retirement living and How to find the right dementia care for your spouse to find out more about safety, care levels and quality, and engaging activities at residences.
Reason #2: When seniors want more social opportunities and community
Retired pharmacists Joyce and Bob moved into Amica Bronte Harbour in Oakville when maintaining their house and garden became too onerous and their social circle had diminished.
"We've made wonderful friends here," says Joyce, who enjoys the gardening committee, water fit classes and volunteering. "Many of our former neighbourhood friends were either dying or moving away. Coming here, we've found a whole new group of friends and people we have things in common with. Plus, the building is wonderful, and we love the view from our suite."
Like Joyce and Bob, many seniors are choosing senior living because they know that loneliness has real physical and mental health impacts. Read 5 tips to prevent social isolation for seniors and 5 surprising benefits of senior living to learn more about how social connections build a sense of purpose and joy.
Reason #3: When seniors no longer want to cook and clean
Whether he's out playing golf or shooting pool in the lounge, 87-year-old Bob is making the most of every day at Amica Peel Village in Brampton. He has an Independent Living suite while his wife Leda accesses support and premium amenities in Memory Care. When Bob's not visiting Leda or taking her to the hair salon on Fridays, he's hitting the links at nearby Brampton Golf Club or joining friends for lunch in the Amica Peel Village dining room.
"I can eat as much as I want when I want, and people are very talkative and sociable," Bob says. "Everything's taken care of. Plus, everyone's been vaccinated, the building couldn't be cleaner and the front desk staff are really good about safety."
Seniors like Bob appreciate that laundry and housecleaning is taken care of at a retirement residence. And it doesn't hurt that at Amica, residents can enjoy fresh and nutritious meals prepared by Red Seal chefs either in their suite, the fully licensed dining room, the bistro or outside on the terrace. Learn more about Amica's approach and get nutrition tips in our Guide To Healthy Eating For Seniors.
Reason #4: When seniors are alone or widowed
When Richard's wife had to go into long-term care, he chose to move into Amica Somerset House in Victoria rather than try to keep up the house solo.
"It was one of the best decisions I've made," Richard says, especially since Somerset House staff helped him find a real estate agent and moving company to make the transition easier. "I'm most impressed by the attentive service, the ready help from wellness staff when I need it and the wide variety of activities. And I was amazed that within a few days of moving in, the staff were greeting me by name. They really made me feel welcome."
Likewise, Gladye sold her condo after her husband passed away and moved into Amica On The Avenue in Toronto. She loved the neighbourhood and the fact that she was able to renovate two units into a one-bedroom suite large enough to accommodate her cherished collectibles, furniture and art. "I didn't want to give up my way of life," she explained shortly after the renovation.
Reason #5: When seniors want to reassure their kids
Some seniors choose a retirement residence because they want to keep their independence, access care if they need it and ensure that they won't be a burden to their adult children. At Amica, we provide 24/7 support, on-site nurses and emergency monitoring. Many Amica residences also offer Independent Living, Assisted Living and Memory Care under one roof, so you'll always have the right care.
Charlie, an 80-year-old widower, chose Amica Riverside in Windsor in part because his daughters thought he would enjoy the social programming, along with care when he requires it.
"I've made a lot of friends here," he says. "We shoot pool together once or twice a day, play Wii bowling and have meals together. And on Mondays, I rehearse with my barbershop quartet over Zoom. I really love keeping busy."
Reason #6: When seniors want to try new things
If you or your loved one have lived in the same place for 20, 30 or even 50 years — but friends are moving away — switching to a senior living residence with safe and engaging activities and premium amenities starts to sound pretty good. Most Amica residences include a library, home theatre, salon and spa, pool, games room, terrace, gardening centre and more. Plus, you can choose to join optional daily activities such as workshops, musical events, art classes, wine tastings, excursions or movie showings. Some experiences are even more unique.
Bridget, a resident at Amica Peel Village, was able to write and record a song based on her life with a professional musician as part of Amica's Lyrics & Legacies project with Roy Thomson Hall. Meanwhile, Gloria at Amica Little Lake walked around the top of the CN Tower a few years back for her 87th birthday thanks to Amica's Dreaming to Doing program supporting seniors' wishes. Find out more about how our partnerships enrich seniors' lives.
Reason #7: When seniors want to enjoy a premium lifestyle, with care
Larry O'Brien was initially lukewarm on the idea of retirement living when his wife, Marjorie, needed support for medical issues. "I thought it might be dull, but it's been the reverse," says the former pilot, one of Amica White Rock's first residents. "The move enhanced our lifestyle significantly."
One recent example? The White Rock team pulled out all the stops for Larry and Marjorie's 60th anniversary with a celebration featuring broiled lobster and champagne for two in the private dining room.
"You couldn't ask for a better staff: they're attentive, empathetic, cheerful and professional," says Larry. "I've never lived in a place where it feels more like family. We feel very fortunate to live here."

Book a virtual or in-person tour to find out what it's like to enjoy living on your own terms in an elegant Amica residence with outstanding dining, amenities, activities, senior care and safety measures.