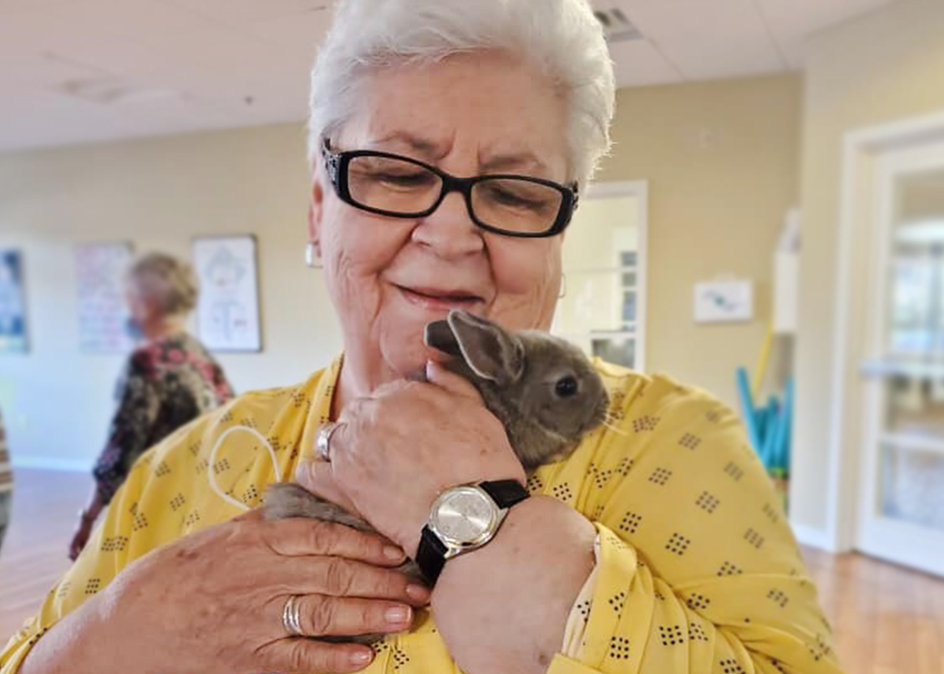 Whether seniors are creating artwork to raise funds for Ukraine, meeting Olympic athletes or visiting a local berry farm or winery, there are no two days alike at Amica. Discover some of the surprising activities you can do in retirement living, from beekeeping and raising bunnies to parties, learning excursions, gardening and more. Each day, Amica residents can choose from six to eight completely optional activities organized by Amica Life Enrichment Coordinators to satisfy residents' interests, create connections and foster fun and lifelong learning.
"We've walked 116 stories above Toronto along the CN Tower Edge Walk, learned new languages, fundraised for our Amica Helping Hands Charity, raised baby chicks, started choirs and more," says Amy Lee, Amica's Life Enrichment Specialist. "Participating in activities and having people in our lives to connect with is more than just fun — it supports healthy aging."
1. Dancing, day and night
Amica residents love to boogie! At Amica Beechwood Village, for instance, seniors recently raised spirits and activity levels with a choreographed walker dance to the Bee Gees' classic hit, Staying Alive. Meanwhile, line dancing lessons have been a hit at Amica Newmarket. Plus, read about our gala dinner dances and daytime celebrations with music and dancing in 20 best theme parties for seniors.
2. Supporting causes with creativity
Amica residents and team members consistently give back. Whether it's savouring tea and baked goods to raise funds for a local women's shelter on International Women's Day or creating and auctioning artwork to donate to Ukraine relief via the Red Cross, our seniors find purpose and meaning in making a difference. Learn about how they help fill much-needed holiday gift baskets each year for low-income seniors, too.
3. Setting new milestones
Seniors at Amica aren't just visiting the pool and the fitness centre — they're also using the putting green, going on bowling excursions and pushing themselves to new heights. At Amica White Rock, for example, a 90-day fitness challenge included weekly walking club strolls in different local parks, organized by resident Mary. Learn about other fun challenges and Amica's yoga classes, pool fitness and more in 9 amazing activities for seniors in retirement living.
4. Admiring snakes, rabbits, chicks and reindeer
The natural world is fascinating, isn't it? At Amica White Rock, resident Yvonne recently met a python from the Urban Safari Rescue Society, while seniors at Amica Newmarket care for resident bunnies Caramel and Cadbury. Local farms bring baby chicks, baby goats, reindeer and other animals for visits at Amica residences, too. Seniors are also learning about beekeeping, pollinators and sustainability, thanks to residence beehives installed in partnership with Alvéole, an urban beekeeping company.
5. Learning about winemaking, geography and more
Weekly excursions quench Amica residents' thirst for lifelong learning, culture and camaraderie. At Chaberton Estate Winery this spring, for instance, Amica White Rock residents tried different vintages and found out about the grapes sourced in BC. Amica Douglas House seniors enjoyed scenic views and insights about the coastal forest as they strolled the Malahat Skywalk on Vancouver Island. Visits to museums, galleries, the symphony and local restaurants are popular at Amica, too.
6. Meeting Olympians
This isn't just a photo op. Olympians who visit Amica residences, like gold-medal winning hockey player Micah Zandee-Hart, share their experiences and wisdom with seniors. Likewise, Canadian Olympian and former CFL player, Jesse Lumsden, offered hard-won advice on overcoming adversity in a recent Amica webinar, which is free to download.
7. Swaying to New Orleans Jazz
When Mardi Gras rolled around this year, Amica Life Enrichment Coordinators organized good times complete with homemade masks, speciality cocktails and soulful tunes. Residents appreciate opportunities to celebrate holidays all year round, from St. Patrick's Day, Easter and Cinco de Mayo to Christmas and Hanukkah events.
8. Sprouting good things
Blooms are beautiful to look at, but there's a special satisfaction in growing your own food. That's why Amica residences offer greenhouses and gardening clubs, where residents cultivate herbs, Brussels sprouts and other good things for Amica's Red Seal chefs to cook and serve!
9. Planning new adventures
Surprisingly fun activities and events are par for the course when residents and team members hatch plans together.
"Our programs are innovative and personalized based on our residents' interests, preferences and needs," says Lee, who notes that Amica staff bring their own flair, too. "This February, a team member celebrated their Caribbean heritage by cooking a traditional meal for team members and residents to enjoy together."
At Amica, you always have the freedom to make your own schedule, go out for visits or enjoy a quiet day in your suite. But it is also wonderful to know that you have a wide variety of recreation options to enjoy with like-minded peers, from art classes to movie nights and live entertainment.
"It's all about finding connection, well-being, friendship and stimulation," says Lee. "From interest groups to unique events and outings, our programs empower residents in Independent Living, Assisted Living and Memory Care to flourish in mind, body, and spirit."
Book a virtual or in-person tour to find out what it's like to enjoy living on your own terms in an elegant Amica residence with outstanding dining, amenities, activities, senior care and safety measures.