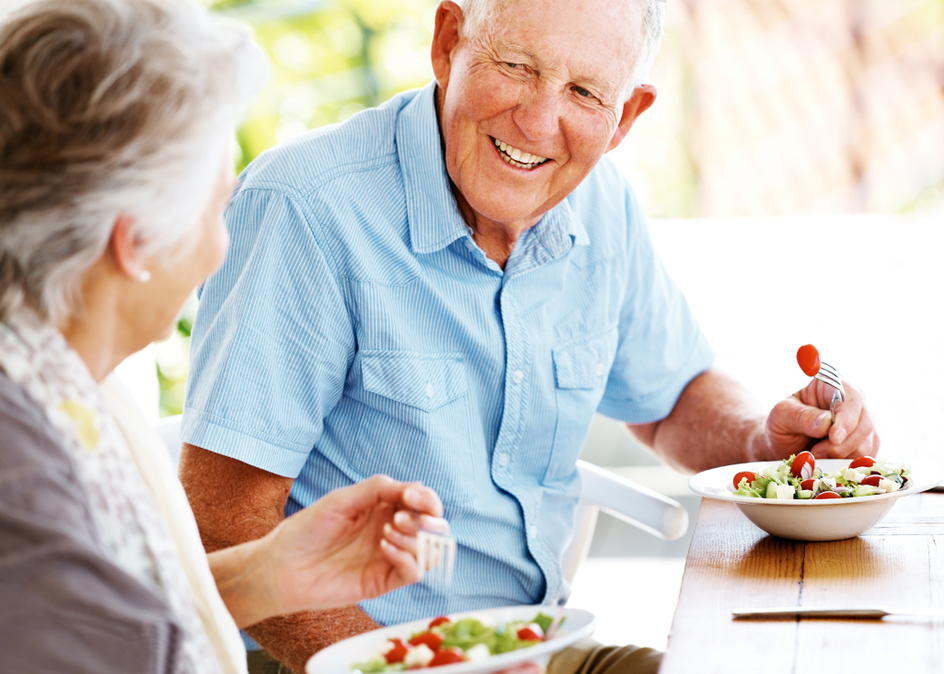 Is your senior loved one losing weight, barely cooking or leaving food untouched in the fridge? It's not uncommon. Even though healthy eating is crucial for physical and mental well-being, combating disease and increasing longevity, many seniors at home lose their appetite and interest in cooking or have troubles chewing and swallowing, among other issues. If your parent won't eat well, talk to their doctor to rule out health and medication issues and use the following strategies to boost their nutrition, hydration and healthy eating habits.
"It's critical to eat at regular times throughout the day because it sustains energy and brain function, plus it helps with digestion," says Gary McBlain, National Director of Culinary Services at Amica. That's why the dining rooms at Amica are open from 7 am – 7 pm each day, with healthy snacks available 24 hours per day if residents are feeling hungry.
Tip 1: Understand the importance of good nutrition for older adults
Read the latest resources on healthy eating for seniors so that you can better explain to your parent why eating poorly threatens their independence, strength and ability to fight illnesses like diabetes and osteoporosis. Smart eating choices can also help manage conditions like high-blood pressure, high cholesterol and heart disease, as well.
Tip 2: Buy or prepare healthy snacks that seniors can eat with their hands
Seniors living alone may not want to cook or have increasing trouble with utensils due to arthritis, Parkinson's disease or other health conditions. So stock their fridge with small, easy-to-open and eat items featuring whole grains, fruits, vegetables, beans and protein.
"Creamy peanut-butter power balls, pre-sliced fruit and mini muffins are all tasty snacks that are popular with Amica residents," says Gary McBlain. "Just avoid crunchy nuts and seeds that can interfere with digestion and dentures."
Tip 3: Pile on the flavour
Adding tangy sauces and gravies to dishes will make them softer and easier to chew, plus offset the diminished sense of taste and smell that many seniors experience. (Learn more in our article, Healthy eating for seniors with a low appetite.) Batch cook zesty, healthy meals, invest in new store-bought sauces to liven up dishes or try ready-to-eat meals with tasty flavour combinations that your parent will like, such as a chipotle-cheddar bagged salad or a chicken Pad Thai.
When serving meals, turn off the TV and radio so everyone can focus on great taste without distraction. Some seniors may prefer to eat one food at a time rather than choosing from a full plate, as well.
Tip 4: Boost the fun factor
Brighten up weekday meals with seasonal table settings or themes like enchiladas for Cinco de Mayo or Bavarian sausage and potato dumplings for Oktoberfest. If it's not possible to organize a full family dinner more than once a week or month, arrange to have friends bring a meal regularly, have take-out delivered or eat a virtual lunch together via FaceTime.
Tip 5: Keep water bottles around the house
Visual cues will help your parent remember to drink up, because dehydration can cause fatigue, dizziness, confusion and constipation. Seniors don't feel thirst the way they used to, so place a refillable water bottle in the fridge, by their favourite chair and night table to remind them to stay hydrated.
Tip 6: Make the switch to senior living
If your parent isn't just skipping meals, but also seems depressed or is struggling to stay on top of medications, hygiene and household chores, it may be time to try senior living. Seniors often discover renewed enthusiasm for life — including food — when they experience senior living at an Amica residence with premium amenities, personalized professional care and excellent cuisine prepared fresh daily by Red Seal certified chefs.
"The social aspect of eating in the dining room makes a big difference for many Amica residents," says McBain. (Residents can also choose to enjoy meals on the terrace or in their suite.) "By offering small portions, nutrient-dense snacks and customized menus with resident favourites, even seniors with lower appetites eat well."
Book a virtual or in-person tour to find out what it's like to enjoy living on your own terms in an elegant Amica residence with outstanding dining, amenities, activities, senior care and safety measures.