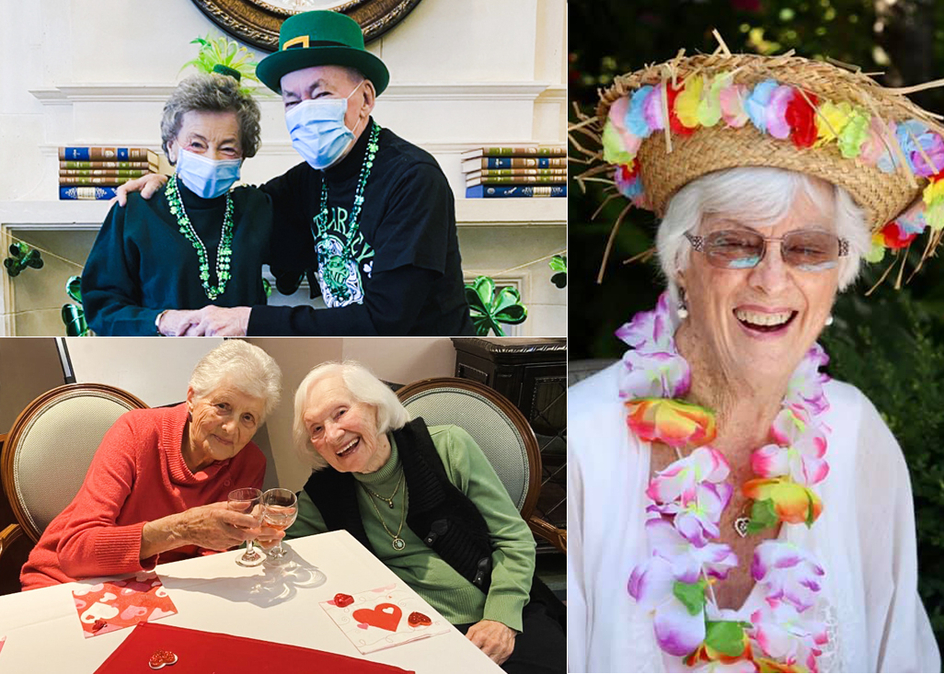 Imagine dressing up in '50s costumes and sipping on milkshakes delivered by servers on roller skates, or slow dancing at an elegant Under-The-Sea themed party. If that sounds good to you, learn from two Amica party planning experts who know how to organize a good old time. Amica retirement residences offer sophisticated theme parties and events several times a month, in addition to other optional activities like movie nights, live entertainment, creative workshops, fitness classes and visits to local galleries, museums and breweries. Here, they share their best theme party ideas for seniors, including fun activities, party games, outstanding decorations and delicious party food and cocktails.

"Themed parties and programs offer such joy and laughter," says Karissa Boyce, a Life Enrichment Coordinator at Amica Little Lake. "The benefits go beyond fun – it's about participating, building meaningful relationships and boosting your well-being."
Samantha Edhouse, a Life Enrichment Coordinator at Amica Newmarket, couldn't agree more. "Our residents love our monthly theme parties! We had a "Blast into Summer" event with a space theme and costumes, for instance, and a "Fall Back in Time" party with a live entertainer performing songs from different decades, plus themed cookies in the shape of lava lamps and tie-dye t-shirts."
20 theme party ideas from expert party planners
Are you planning a party at home or at a senior living residence? Try one of the themes below, which are always popular with Amica residents. They'd be equally fun at a party venue with family and friends.
Wild West Party. At Amica Little Lake, we set up a "Little Lake Saloon," had a photo shoot with props like cowboy hats, encouraged residents to dress up in western gear and offered hilarious games such as lassoing a papier-mâché bull.
Cruise Ship Party. Serve a Captain's Dinner, offer shuffleboard "on the promenade deck," give out "passports" for participants to collect travel-related party favours and set up a cruise-themed photo booth with Captain's hats, tropical leis and more.
Retro Theme Party. Amica Little Lake throws a popular '50s theme party with the dinner area set up like a 1950s diner, servers on roller skates, costumes and games like '50s Name That Tune and Trivia. An early '60s Las Vegas party, meanwhile, featured music from "The Rat Pack" members Frank Sinatra, Dean Martin, Sammy Davis Jr. and others, as well as casino-style card games.
Fairy Garden Tea Party. Host an outdoor tea with guests wearing colourful hats and fascinators. Learn about the tea party we host each year at Amica Douglas House in our post, Fun activities for seniors in retirement homes.
Pride Day Party. A rainbow photobooth complete with pride flags and rainbow-hued accessories helped Amica Somerset House residents honour Pride Month in June. Consider temporary rainbow tattoos, colourful fruit skewers and rainbow-themed art projects for a similar fête.
Christmas In July Party. Amica Newmarket residents had a blast at this summer party, featuring Christmas decorations, Christmas sweaters, antler headbands, a dance with live music, dinner and games such as "reindeer hunting" with toy Nerf guns.
Tropical Theme Party. Invite seniors to dress up in flowered shirts and hats and sip on tropical punch amid brightly coloured decorations, including palm leaves, pineapples and flowers.
Booze, Cruise and Tattoos Party. Amica Little Lake team members wore leather at this party and organized motorcycle sidecar rides for residents in the parking lot. Seniors enjoyed mocktails and cocktails while getting temporary tattoos!
Hollywood Glamour Theme Party. Encourage seniors to dress up as their favourite celebrities, offer awards with prop golden statuettes, decorate your space with glitzy décor and serve elegant hors d'oeuvres at an event like this.
Robbie Burns Night. Celebrate the poet Robert Burns' January 25th birthday with a Scotch tasting, readings, Scottish music, a dinner with haggis and an Auld Lang Syne sing-along.
Under The Sea Party. Amica Little Lake residents recently enjoyed a party like this, complete with a Surf and Turf meal, shell and coral table centrepieces, ocean waves projected on the ceiling and sparkling bubble lights. "The life enrichment team even dressed up like mermaids and Queen Neptune," says Boyce.
Valentine's Day Party. Ask seniors to dress up in their favourite red outfits, make DIY paper valentines, decorate and exchange cupcakes or heart-shaped cookies and play bingo with candy hearts or Hershey's kisses as markers.
St. Patrick's Day Party. At Amica, we celebrated March 17 with Irish coffees, soda bread and a LOT of shamrock decorations and green hats. Your party could include decorating shamrock cookies and listening to Irish music, too.
Cinco de Mayo Party. Celebrate this festive Mexican holiday on May 5th with Mariachi music, fiesta-themed decorations, Mexican food and margarita cupcakes and a photobooth complete with sombreros and maracas.
Hawaiian Luau Party. Amica White Rock residents love their annual luau, featuring tropical cocktails, Hawaiian skirts and leis and a performance from an Elvis tribute artist. Get a more authentic sound at your fête with Hawaiian music and serve up snacks such as ham and pineapple kabobs.
Masquerade Party. Offer glittery masks for seniors, organize a photo booth with tinsel and balloons, give a prize for the best DIY mask and serve a sophisticated dinner followed by dancing.
Oktoberfest Party. At Amica Little Lake, we kicked off our party with a professional yodeller and cowbell player and had residents and team members dressed in Oktoberfest hats and aprons printed with lederhosen and dirndl skirts!
Halloween Party. Offer a prize for the most inventive costume and best pumpkin carving, decorate and exchange Halloween cupcakes and cookies and serve a Witches Brew punch and other spooky treats. (You'll find lots of inspiration on Pinterest.)
Nuit Blanche Party. At Amica Westboro Park, we invited residents to dress up in their finest white outfits to enjoy champagne and a sophisticated meal al fresco. (Some host their parties under the stars.)
Disco Party. Invest in some disco balls, put on the Bee Gees and prepare to boogie! During the pandemic, residents of Amica Swan Lake enjoyed a socially distanced disco party complete with a five-star meal and Quarantini cocktails and mocktails.
Looking for more inspiration? Get more party and event ideas from Amica's social posts.
Involve seniors in party planning
Parties are more fun when everyone has a chance to share ideas, get involved and even help with games and party decor. When inviting seniors and residents for input, ask about parties they've enjoyed in the past and learn about some of their favourite party activities.
"Residents offer party ideas at our monthly activity chats," says Boyce. "We also organize optional themed activities leading up to the main event, such as making DIY themed centrepieces or other decorations."
Prepare senior-friendly party games
It's easy to customize popular seniors' party games based on the theme of your event. Games offer a great way to socialize, enjoy a brain boost and even a bit of exercise. Consider these party game ideas:
Trivia games. Tailor these to your event. For example, Christmas party trivia could include questions about famous Christmas songs, popular Christmas stories, movies and more.
Name that tune. Invite seniors to guess the names of well-known songs relating to your party's theme.
Word search games. Look on Pinterest for word searches based on the holiday, season or theme of your party.
Tossing games. Use the party's theme to inspire decorations for buckets or a cornhole game to toss bean bags. (It's always surprisingly fun!)
Guessing games. Invite partygoers to guess the number of seasonal or themed party candies in a jar. Whoever guesses closest wins!
Revel in the many benefits of parties
Yes, senior living parties take time and effort to organize but they are absolutely worth it. Far from frivolous, parties offer seniors significant benefits such as companionship, belonging and staying active. "Seniors who participate in parties and events tend to age better cognitively and physically," says Boyce. "Plus, the party themes bring back happy memories of past holidays, decades and travel and allow them to reminisce."
If it's been way too long since you or a senior loved one attended a great party, why not find out about some of the upcoming events at your nearest Amica residence? Book a virtual or in-person tour to find out about our fabulous fêtes, outstanding dining, premium amenities and engaging activities for seniors at every stage of life. After all, you deserve to get the most out of life.