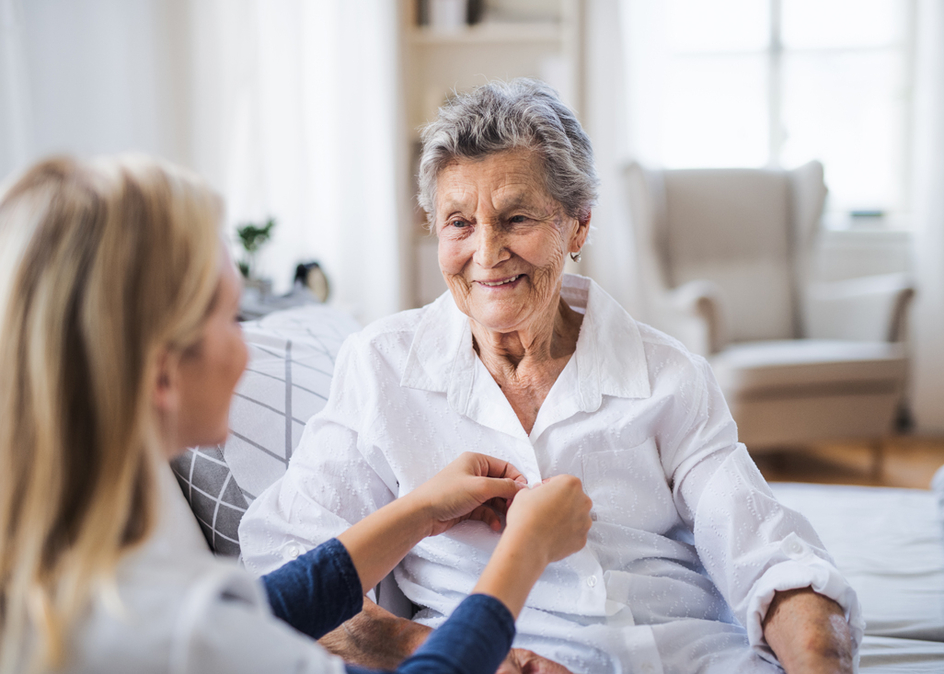 Have you or a loved one ever wondered what it's like to live in Assisted Living at Amica, as compared to long-term care? You're not alone: many seniors are curious about what a typical day is like at a premium, private-pay retirement residence versus a government-subsidized long-term care home. (Sometimes called a nursing home.) Read on to better understand the differences and decide whether Amica Assisted Living with its excellent amenities, safe socializing in a vaccinated bubble and personalized, professional care sounds right for you.
"At Amica, we have a saying: your day, your way," says Jennifer McNeil, Amica's National Clinical Educator. She has an experienced vantage point on senior care, having worked in the long-term care sector and in senior living at Amica. "The Amica team really gets to know residents through a discovery process, so we can create a personalized wellness plan and approach to care service. Our residents flourish in a place that most resembles what it was like for them to live in their own homes."
The basics on long-term care versus Assisted Living for seniors
Before you review a typical day at Amica and elsewhere, it's helpful to do some background research on the unique aspects of home care, Assisted Living and long-term care. Bookmark the following documents to read now or later:
Daily differences between Assisted Living at Amica and long-term care
| | Amica Assisted Living | Long-term Care |
| --- | --- | --- |
| Morning and evening routine | At Amica, a trained Resident Care Partner provides assistance and support in areas such as dressing or personal grooming based on your approved, customized care plan. You decide when to get ready for your day and when to prepare for bed. You will generally have the same one or two Resident Care Partners, meaning they are well-versed in your preferences. You won't be rushed, and you can take as much time as you need. | In long-term care, morning and evening schedules are necessarily much more structured, with brief amounts of care time allotted to each resident. Care providers help multiple residents each morning and evening and residents generally must be ready for breakfast and bedtime at set times each day. |
| Meals and snacks | A fine dining atmosphere is the order of the day at Amica, with multiple meal choices available anytime you wish between 7 a.m. and 7 p.m. Delicious and nutritious meals are prepared by Red Seal chefs. You decide whether to eat in your suite, in the dining room, on the patio or in the bistro — and you can sit with your choice of friends or neighbours. | Set mealtimes and arranged seating are typical in long-term care, and meal choices are often limited to two items. |
| Activities | Amica's life enrichment programs offer opportunities for connection and lifelong learning. Fitness classes, wine or whisky tastings, gardening, theme days, cooking demonstrations, art classes and book clubs are all popular options. Top-notch guest speakers and entertainers regularly visit our properties as well. You can also enjoy cultural and recreational excursions, from symphony concerts to bird watching at the beach, with transportation in our comfortable shuttle and one-to-one support if needed. | While a variety of activities are available in a long-term care setting, excursions and visiting guests are usually less frequent. Quieter activities like bingo, television, card games and gardening, as well as music therapy and group exercise classes, are more common. |
| Visitors | Depending on COVID restrictions, visitors are very welcome at Amica properties. Overnight guests may stay in your suite, and residents often host catered gatherings for friends or family in a private dining room. Or guests can join you for meals for a nominal fee. You can also give your approved guest an electronic key fob to enter the building after our Concierge service is closed in the evening. | Long-term care settings also welcome visitors, but usually do not provide accommodation or meals for guests. After-hours visitors are approved on a case-by-case basis. |
| Care options | Amica has a full suite of Assisted Living care options, including a helping hand as required with dressing, mobility, eating, grooming and health care. Our nurses and wellness care teams are available 24/7 on the same floor as your suite, and each resident has a personal emergency response pendant. If you require assistance with bathing or showering, depending on your needs you may stay in the privacy of your suite, or visit our spa-like tub rooms equipped for mobility assistance. | Long-term care offers a similar variety of care options, which are often time-limited due to staffing ratios. One main difference is that a resident's living area does not have a shower or tub, so bathing is done in a common tub room setting. |
| Accommodations and amenities | Living areas and common areas are state-of-the-art at Amica. Your suite is private, with natural light and quality home furnishings, as well as features such as accessible bathroom fixtures. Your small pet is also welcome in your suite. Dedicated on-site amenities include everything from a concierge, well-equipped fitness room, a movie theatre, a pool, a greenhouse, outdoor patio, a craft kitchen and beautifully decorated pubs, libraries and lounges to meet with friends. | Private rooms are available in some long-term care settings, but semi-private rooms with up to four residents are not uncommon in some older homes. Communal areas often do double duty for viewing movies or TV, doing an exercise class or hosting an entertainer. |
Assisted Living, tailored to your needs
When seniors need help with health care, personal care, homemaking and other support services, they typically choose between government-subsidized care or a private retirement residence such as Amica. Those that opt for Assisted Living at our premium senior living residences enjoy customized care and services. "When we explore details about your health, background, personal preferences, hobbies, interests and family connections, we can tailor each day to meet and exceed your needs," says McNeil. And that means aging with freedom and optimism, confident that you're living life to the fullest and receiving personalized, professional care.
Book a virtual or in-person tour to find out what it's like to enjoy living on your own terms in an elegant Amica residence with outstanding dining, amenities, activities, senior care and safety measures.