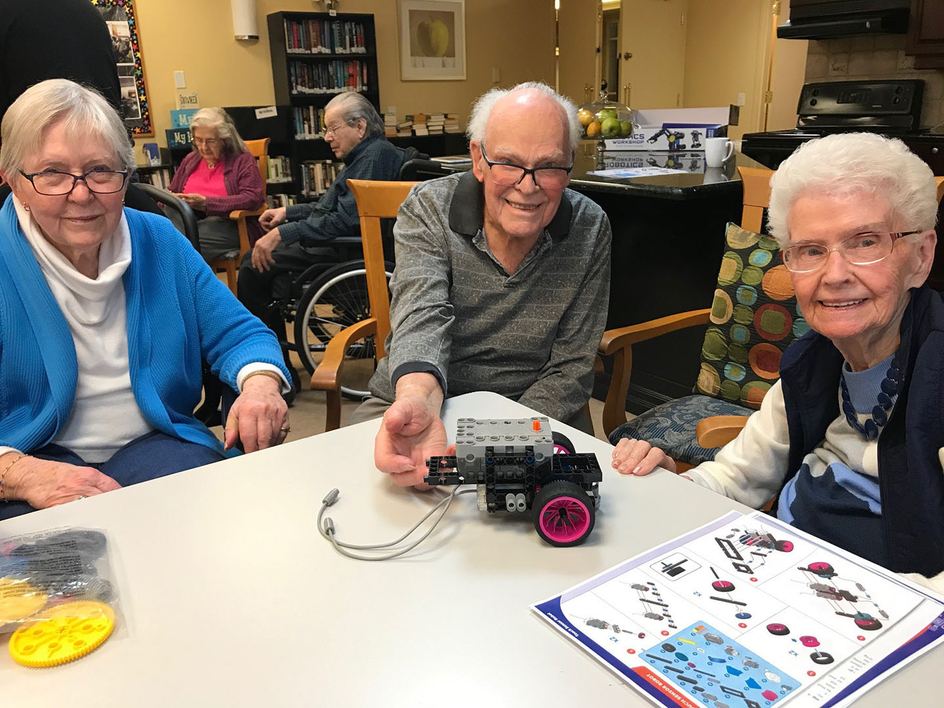 The idea for a STEM Inventors Club came to Life Enrichment Coordinator Emily Curcuruto as a way of keeping seniors connected to modern technology. Since everyone had been hearing so much about STEM (Science, Technology, Engineering and Mathematics), and since she knew many of her residents were engineers, she started the robotics program for seniors living at the top-voted retirement community in Markham. "I thought the program would be a unique way to bring the residents together, spark their passion and ignite their creativity," says Curcuruto. "In the past, many things were built by hand and made to last. Knowing how important this is to many residents, and the value they place on hard work, I believed our club would generate some buzz in the residence."
She was right. Residents arrived to find two kits containing various parts, pieces and a step-by-step instruction guide (Curcuruto ordered the robotics kits on Amazon). The goal was to spend a couple of sessions assembling the small gadgets — which included building a functional electrical circuit — and then programming them to move. George, previously an electrical engineer for Nortel, picked up the electrical components and immediately started wiring one robot. Since the instructions were a little confusing, the two groups had to problem solve and try different steps to see what worked. Each group discussed how to connect the proper wires to the correct ports, figured out how to add wheels and batteries, and laughed when they accidentally assembled something backwards. In the end, the struggles were worth it. "When you build something from start to finish with your own two hands you get a sense of accomplishment and satisfaction," says George.
The highlight of the seniors' technology workshop came when the groups tested their finished robots for the first time. "When they hit play and watched the robot scoot across the floor, they all smiled, their eyes just lit up, they were so excited" says Curcuruto, who is learning alongside a core group of enthusiastic seniors at the weekly sessions. "I'd never built robots before but it was fun and a good challenge," says Gillian, a self-described gadget lover who had worked as a computer programmer. "The staff here really make an effort and it's up to us to take part and make sure we appreciate these opportunities." The seniors then began to learn about coding using an app; next, they're purchasing a 3D printer to see what they can create together.
"I think this is helping everyone understand the technology used in society and to build a bridge to the younger generations," she says. "Once they say to their family that they built a robot, they get 50 million questions, they have meaningful conversations and you can see the pride that comes through. We're making history by building the first robot in the retirement residence — there's a real sense of accomplishment in that."
---
Find out more about great amenities, activities, flexible dining and personalized care that adapts to your changing needs at Amica residences. Private tours available.